The fund allocated for pulses buffer is more than 40% of entire farm ministry's 2016-17 budget.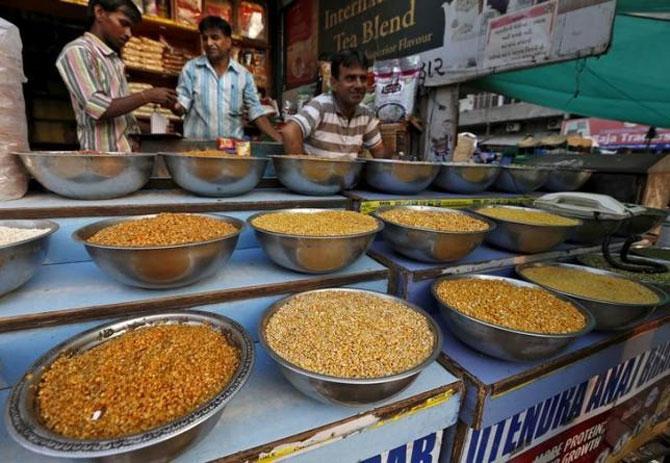 The Centre is all set to create a huge buffer stock of pulses of around 2 million tonnes, half of which would be realized through domestic procurement and rest via imports.
This would play a crucial role in resolving the crisis in pulses that the country faces year after year, but a body to purchase, store and distribute them is required for any such success.
This buffer – procurement for which started sometime back – would ensure that the crop is purchased when prices drop below MSP and it is disposed off when they rise abnormally to cool down the markets.
Given that the Centre now plans to be regular player in the domestic pulses market, experts say the need has come to have an FCI like permanent body for pulses, which could solve this vexed problem once and for all.
"Of course, we need an FCI like permanent body to handle the pulses procurement, storage and distribution, but needs to be much more efficient than FCI is. Also, to create any viable buzz about pulses among farmers we not only need assured purchases, but also irrigation facilities as despite all things pulses still can't compete with cereals when it comes to profitability for farmers," Dr S Mahendra Dev, director of Mumbai-based Indira Gandhi Institute of Development Research (IGIDR) told Business Standard.
P K Joshi, South-Asia director of International Food Policy Research Institute (IFPRI) said that there three models which can be considered for handling this pulses buffer.
The first is that the Centre does it on its own, second the entire operations are done by private companies and third one to combine the two.
Experts say the Centre needs to ensure that neither farmers nor consumers suffer.
The initial procurement for pulses started from kharif 2015 when it was first decided to create a buffer of 0.5 million tonne, which was later scaled up to 0.8 million tonnes and now almost 2 million tonnes.
However, the big difference between purchases done earlier and now is that till last rabi season procurement was being done at market rates, but from 2016 kharif they are being done at MSP rates because prices have dropped sharply in the past 3-4 months.
The difference is also reflecting on the Centre's sale of pulses and the commodity purchased at around Rs 90 per kilogram is not even fetching Rs 60 in the market now.
The move to create a permanent mechanism for purchasing and disposing off pulses, if fruitful would go a long way in solving the perennial pulses crisis in India.
However, one of the most critical parts of this exercise is the creation of an agency or empowering an existing one which is capable of undertaking large-scale procurement of pulses, storing them scientifically and also distributing them on time and efficiently.
More so as the total expenditure for handling such huge amount of pulses would come to around Rs 18,500 crore, which is over 40 per cent of the entire agriculture ministry's 2016-17 Budget.
The money, according to the plan won't come from budgetary support but would be raised from the market and elsewhere for which also a professional agency is desirable.
For the time being NAFED along with SFAC assisted by Food Corporation of India (FCI) is doing most of the procurement, while the stocks are being stored at the Central and State Warehousing Facilities.
CWC has a storage space of around 1.07 million tonnes, while State Warehousing Corporations have much more. Nafed since the 2015 kharif procurement season has purchased over 45,000 tonnes of pulses from farmers, while it has been mandated to buy around 0.35 million tonnes during the ongoing kharif season.
It has already started purchases of moong where prices have dropped below the MSP of Rs 52.25 per kilogram and soon it will start purchasing urad and tur as their prices are also showing a downward trend.
Urad MSP for 2015-16 is Rs 50 per kilogram, while that of tur/arhar is Rs 50.50 per kilogram.
The total buffer stock of pulses available with the government as on date is around 300,000 tonnes.
"The ideal model according to us will be a mixture of both. That is public sector agencies procure pulses, while private agencies store them and the distribution is again handled by public sector," Joshi said.
He said transparent and clear guidelines could be developed for each of the three operations that is procurement, engagement of warehouses and storage spaces and thereafter their release through public agencies or into the open market, monitored by a committee.
"For the time small pilots can be conducted in select districts to test this model, before being replicated nationally," Joshi said, adding that handling 2 million tonnes of pulses in one go is a big task and the Centre instead should have dealt with 1-1.25 million tonnes of pulses to begin with.
As studies conducted by IFPRI itself shows that South-East Asia comprising countries such as India, Pakistan among others could face huge pulses deficit till 2050, and as such permanent structure to manage purchase, storage and lifting of pulses would go a long way in dealing with the recurring crisis.
The Centre's attempt to engage a professional agency to handle the buffer stock should consider all these.
Year Production
2009-10 14.66
2010-11 18.24
2011-12 17.09
2012-13 18.34
2013-14 19.25
2014-15 17.15
2015-16 16.47
NOTE: The Crop year runs from July to June
*As per the fourth advanced estimate
Source: Department of Agriculture
Photograph: Reuters