The government had planned to sell a 10 per cent stake in Steel Authority of India Ltd (SAIL) in 2010, but the plan was shelved. Now, the government plans to sell a part of its stake in the state-run steel maker. SAIL will also begin commissioning its Rs 72,000-crore expansion projects this year, with an aim to double capacity. In an interview with Shubhashish, SAIL Chairman C S Verma talks about the company's slated disinvestment and future strategies. Excerpts: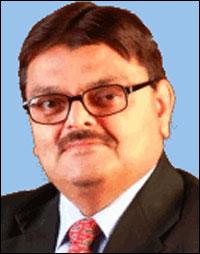 How has the response been to SAIL's disinvestment plan?
There were non-deal roadshows for the last 10 days abroad. I was part of them and I saw very good interest in the people whom we met. The government has to decide the timeline about the OFS (offer for sale) issue.
Will the proceeds come to SAIL for its expansion?
No, earlier there was 10 per cent disinvestment from the government and 10 per cent fresh equity issue of the company. For the past one year, we have delinked the issues. So, right now, it's the disinvestment of the government equity.
Besides this disinvestment, will SAIL also issue fresh shares?
No, I have never said that. Nothing is decided.
But doesn't the company need additional money for its expansion?
The company has a net worth of $8 billion (Rs 43,500 crore). Our borrowing capacity is Rs 82,000 crore (Rs 820 billion). Our borrowing as on date is only Rs 21,000 crore (Rs 210 billion). We have Rs 6,000 crore (Rs 60 billion) as cash balance. The total value of our expansion is Rs 72,000 crore (Rs 720 billion). We have already spent Rs 42,000 crore (Rs 420 billion) and the two-thirds is being spent from internal accruals. We are borrowing only a third of our need. So, we don't need extra money.
The one-third you are borrowing is already tied up?
The entire money is not going to be spent today. Fifteen to 20 per cent will be spent after all the schemes are complete. Every year, we have been spending roughly about $2 billion on the capex (capital expenditure). So, roughly, as I told you, the money spent as of now is Rs 42,000 crore.
So, what's the borrowing plan for FY14?
Our capex for 2013-14 will be around Rs 12,000 crore (Rs 120 billion). Of which, Rs 8,000 crore (Rs 80 billion) will come from internal accruals and cash balances. The remaining Rs 4,000 crore will be borrowed.
There are still concerns over the delays of your expansion plan.
I had attended 25 meetings with investors abroad and I can tell you, contrary to my expectations, they were very happy with the way things are going. The delay has only happened with the IISCO (The Indian Iron and Steel Co plant in Burnpur, West Bengal) expansion - a delay of up to two years. But other things are well on time. Our Rourkela (Odisha) blast furnace is getting started next month and the coke-oven batteries will come up next week. In fact, we assume a production of two million tonnes (mt) from the new facilities in the next financial year. So, yes, delays have been there, but the expansion has, by and large, been on track.
So, by FY15, SAIL will be at 24 mt?
The capacity will be 19 mt by 2013-end. We are commissioning four mt capacity next fiscal, but are assuming only two mt of metal production, because ramping up in the first year will be at 60 per cent capacity.
Don't you think this capacity is coming at a wrong time?
The steel demand is low, prices subdued and we have steel makers adding capacities.
No. In 2012, world crude steel production went up 1.2 per cent. China's output rose three per cent. India's went up 4.4 per cent. Come to the demand side, in April 2012 to January 2013, exports of steel from India have gone up 19.9 per cent. Real consumption rose 4.22-4.25 per cent. And, imports have gone up 15-16 per cent. In a slump also, we have beaten, in relative terms, even global steel majors and China.
But India's steel production and demand growth, on an average, has been 8-10 per cent historically. Now we are at half of it...
Yes, we are half of it, but the world's is even lesser than that. We cannot insulate ourselves from the happenings of the world. What I'm saying is that we are still much ahead of what is happening to our counterpart countries.
Do you expect steel prices to go up?
Steel prices had come down by 10-12 per cent in 2011-12. Last three months, prices have gone up Rs 500-1,000 per tonne in the domestic market. Prices will remain hovering around the current levels and will go up slightly.
It doesn't look like much of a boost to profitability...
Our manpower cost, which is 18 per cent of the turnover, will come down to 12 per cent of the turnover. Every year, we are retiring 7,000 employees and we are adding 3,000 people. Net decrease in our employee base is 4,000 every year. And in the next three years, our steel production will double. The resultant will be that in the year 2016-17, manpower will be 12 per cent of our turnover. Second, the share of value-added products is at 37 per cent today.
This will be 55 per cent post expansion. This gives us an additional profit margin of $245 million every year. That is, when we ramp up our production to 100 per cent. Third, our energy consumption will come down by three-four per cent. One per cent of energy saving will give us an additional profit of Rs 75 crore annually. The saving on coke for steel-making will give us Rs 175 crore yearly.
Over the past years, by how much your employee base has come down?
Ten years back, we had 200,000 employees. Today, we have 100,000. Every year, we are bringing the number down by 4,000. This will continue for the next five years. And this is aging manpower. The average age of manpower at SAIL is 49. This is good for the company as we are retiring our old manpower.