The proposed foreign direct investment in multi-brand retail is a no-loss, no-gain decision, argues Prof Manoj Pant. A faculty member at the Centre for International Trade and Development, School of International Studies, Jawaharlal Nehru University for the past 27 years, Pant has also been a member of the ministry of commerce, Government of India group on environmental issues in the World Trade Organisation.
In an interview with Rediff.com's Priyanka, Pant argues that FDI will not displace the corner stores, and will be a no-impact move on India's GDP.
What effect will FDI in retail have on India? Will it kill the kirana stores?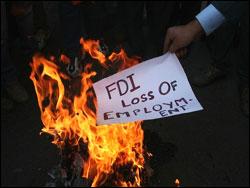 First, multi brand retail consists of both agricultural goods and non-agricultural goods. The kirana stores are the non-agricultural part of the retail sector.
Now, one can either bring services to the customer (like what the kirana stores do) or take customers to the services (organised retail). When labour cost goes up and consequently the cost of using services rise it becomes necessary to bring consumer to the services.
But when labour costs are low, it is easier to take the service to the consumer.  Hence, I don't see why the kirana stores would be displaced.
There is a possibility of labour costs rising only if the metros start becoming huge centres. But in India there is constant migration and a constant supply. Thus, I really don't see any major change.
Furthermore, FDI in retail is not going to do anything new that the organised retail already hasn't. There is a possibility that the fashion and high-quality products will gravitate towards large stores. But the other large segments of commodities will stay with the kirana stores.
Will it hit jobs in kirana stores?
I feel that FDI and the competition in the domestic market that will follow, these shops will have to adopt some standardisation procedures, especially if they have to compete with the products in the market. The store people are mostly self-employed and I see them becoming franchisees, simply because they have to keep up with the standards so that they don't lose jobs.
I don't see any job losses as such.
The government has said that foreign investors will build large cold storage warehouses, which will drastically curb wastage of agricultural produce. Your comments.
It's strange that it is being assumed that the foreign investor will do what the domestic investor has not done for years. Why do we expect the foreign investor to do anything different?
The value of agricultural retail is only about 10 per cent. And to assume that the foreign investors will come in and create cold storage to sell agricultural products which make up 10 per cent of the overall sector is not correct. Building warehouses is not profitable enough and that's why the domestic players haven't done it.
Organised retail has also been allowed 100 tax benefits on building warehousing facilities, and they still have not done anything in this direction. 
In western countries all agricultural products in the market come from cold storage. But it is not possible here simply because the economics of sustaining cold storage does not allow it to be profitable.
There are restrictions on foreign investors and they are required to invest in cold storage...
This is all rubbish. I would like to see any of this being monitored. This will not happen because you are asking them to do so, it might happen eventually because it is cheaper, though.
FDI in multi-brand retail will bring no great gain or loss. The Opposition says it will flood India with foreign goods, which can happen otherwise as well. Just because you are a retail shop, it will not make stuff cheaper. You will have to pay the same import duty.
What about inflation?
Inflation in India is primarily an agricultural phenomenon. It exists because there is a rise in price of commodity and the supply is scarce. There simply isn't enough supply of pulses, vegetables etc.
And a mandi is still the cheapest for agricultural goods.  Mandis become expensive only when labour costs go up, which isn't the case. The argument that FDI in retail would bring down inflation mainly stems from the assumption that they will eliminate the 40 per cent wastage after they built cold storage for agriculture produce. They can but why will they do it? It's not worth the effort. The market for agricultural products in overall retail is small.
The wholesale bazaar is however a big problem. There is a complete monopoly of traders and politicians, and to change that the government will have to bring in changes to the APMC (Agriculture Produce Marketing Committee) Act.
Will it help the farmer?
Now, why would a foreign company be interested in giving a higher price to the farmer. He will get what he is already getting.  The process of procuring raw materials from the farmers can be standardised only if organised retail becomes the largest part of retail, which is not going to happen any time soon in India
Unless labour costs go up, organised retail will never be a dominant part of retail. There is, however, a remote possibility that it might help the farmer, only if they go and buy directly from the farmers. But this requires major changes in the agriculture sector. 
The APMC Act, a state subject, needs reforms.  But this is controlled by a strong nexus between local politicians and big farmers.
The government needs to create conditions for the free movement of goods in agriculture first.  The agriculture sector requires reform, so that every farmer is able to sell or buy from where ever he wants to. There is no point in opening up retail trade unless trading of food grains is first opened up in the rural areas.
However, if FDI brings in one new lobby group of foreign investors and the government is forced to open up the agricultural sector then it would be a good thing. But I don't feel it will happen any time soon
What will the 51 per cent FDI in multi-brand retail bring to India?
I repeat, the foreign investor will do nothing different than what the big domestic players aren't already doing. They too want profits. But usually with the introduction of FDI, foreign investors often bring new technology to the host country. Look at what it did to the automobile sector.
But in retail, there is no technology which they can claim is their preserve.
There is nothing great that the foreign investor can bring in except money, but why would they do it, I don't understand.
What are the advantages of having foreign investors in the market? Will it help the GDP growth, as argued by few?
If somebody tells me that the FDI in retail will augment India's GDP then that would be stretching my imagination a little too far. GDP is not dependent on FDI in retail.
And to assume that it will increase consumption is also not correct. The Indian customer is not a fool that he will buy an expensive item just because it is packaged attarctively. It holds ground only on the first purchase. And if this was true then many of the big shopping malls wouldn't be losing money.
Indian consumer is extremely price conscious. For instance, take a look at the Sarojini Nagar market. It will thrive because organised retail cannot compete with the prices in the unorganised sector.
As long as people are willing to compromise on quality for a lower price, the unorganised retail sector will stay.
Prof Pant writes a column in The Economics Times, and is presently serving as a member of Governing Committee at The Centre for WTO studies, Ministry of Commerce.