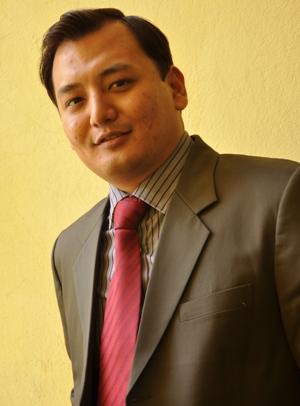 Booking bus tickets while we travel is a crucial part of our plans.

However, it is not such an easy affair always.

This is where Travelyaari steps in.

The company enables the travellers to select the best possible seat available during the time of our bus ticket bookings.

Travelyaari is not only an online travel agency, but has also become a fulcrum of bus travel industry in India.

Travelyaari is the flagship brand of Mantis Technologies Pvt. Ltd, a company setup by graduates from IIM Ahmedabad and industry professionals, namely Aurvind Lama and Parthasarthi Sinha.

In an e-mail interview to rediff.com's Indrani Roy, Lama spoke about Travelyaari, its modus operandi and plans for the future.

What inspired the foundation of Travelyaari?

Travelyaari founding team members wanted to use their business knowledge, management skills and technological acumen to build a product/solution that would solve the core problem of the industry.

The team came together with a very long-term vision to build a platform, which shall enable the industry to meet travellers' needs/ expectations.

Why did the travel sector drew founders' attention?

We, founding members, (Parthasarthi Sinha and Aurvind Lama), like to travel a lot and have travelled extensively in India.

Both realised that the unorganised Indian bus industry is very large and has immense potential.

But at the same time, the industry lacked in a strong infrastructure.

Why is the company called Travelyaari?

Travelyaari is like a friend to all the members of the bus industry working continuously to take it to the next level.

If one has booked bus tickets (even through offline traditional agent) and has got an SMS about the confirmed booking or is able to view live bus chart status and fare in any online bus ticket booking website, then there are very good chances that one of Travelyaari products has made that possible.

On the one hand, we give ear to our customers' expectations and on the other hand, we know the constraints of the bus industry.

We continuously work to design better product or solution that shall help the industry to meet/exceed customer expectations.

Irrespective of who sells the bus tickets, Travelyaari is continuously helping the travellers to have a better experience.

How different is Travelyaari from any travel agency or network?

Travelyaari has built the largest bus market platform in India, which connects all the stakeholders of bus industry.

Travelyaari's computerised reservation system is used by more than 650 bus operators/transporters across country to do the booking, extract transactional reports for accounting and business analysis, and to collaborate with other players.

Travelyaari.com sells bus tickets through its website and its channel partners and is continuously building features/solutions to addresses the issues of the bus travellers.

For example, Travelyaari gives real time bus chart status and fare to its customers.

All the feedback given by the consumers/travellers are shared directly with the bus operator management so that they could improvise on the same.

It is this deep-rooted supply chain what differentiates Travelyaari vis-a-vis others and helps Travelyaari to deliver reliable service to its customers.

What is the modus operandi?

Travelyaari.com team has more than 200 members working in more than 25 locations/cities. Travelyaari has separate team for B2B and B2C business.

B2B team is responsible for building larger network of bus operators and agents where as B2C team is responsible for delivering superior booking experience to travellers.

Have there been initial hiccups?

Travelyaari's initial challenges were to understand the bus operators' business process and build a highly customisable product which can support the bus operators' business process like booking, accounting, analytics, CRM, bus maintenance etc.

Team building, establishing strong sales channel, brand building and cash flow management were other challenges which we faced.

We have heard so much about the bus networks of UK and USA. What, do you feel, Travelyaari should do to rise to the global standard?

Travelyaari is investing continuously to build more sophisticated bus platform.

Travelyaari has launched 'One India' on wherein we exhibit single-hop buses and this feature is used by travellers when they do not find a direct bus.

At the moment, lot of other features are in the pipeline.

How wide is Travelyaari's network at present?

Travelyaari product is used in bus industry across the country -- right from Katra in Jammu and Kashmir in the North to Nagercoil in Tamil Nadu in the South; from Dwarka in Gujarat in the West to Guwahati in Assam in the East.

Travelyaari has more than 3,500 destinations and features buses either from or to these cities.

Travelyaari has also started working for state-owned transports and selling bus tickets of state transports like PUNBUS/ Punjab Roadways, Himachal Tourism Development Corporation, Rajasthan State Road Transport Corporation, UP State Road Transport Corporation etc.

Does it have any plan of doing welfare for the bus operators? If yes, how?

Travelyaari has end-to-end business model and works continuously to enable operators to provide better services.

For bus operators, we provide software services, act as a trainer, a consultant, a collaborator and a sales partner.

What is the future of Travelyaari?

In last one year, Travelyaari's turnover has increased from Rs 40 crore (Rs 400 million) to Rs 150 crore (Rs 1.5 billion).

Because of the strong end-to-end business model, Travelyaari will be able to achieve similar growth rate for the coming years as well.

Travelyaari.com may launch more products, which shall touch travellers at different levels to help them have a smoother journey.
Image: Aurvind Lama | Photograph, courtesy, Travelyaari.com