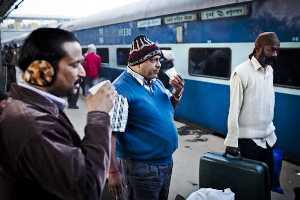 Indian Railways will borrow less at Rs 13,800 crore (Rs 138 billion) from market through its two companies IRFC and Rail Vikas Nigam Ltd for capital expenditure during 2014-15.

In the current fiscal, as per the revised estimate, these two companies raised Rs 14,942 crore (Rs 149.42 billion) from markets.

Indian Railways Finance Corporation will raise Rs 12,800 crore (Rs 128 billion) in 2014-14 for investment in rolling stock and projects, the Railway Budget document tabled in Parliament said on Wednesday.

Besides, the other financial firm under Indian Railway, Rail Vikas Nigam Ltd, plans to raise Rs 1,000 crore (Rs 10 billion) through market borrowing. In the current fiscal, IRFC raised Rs 14,838 crore (Rs 148.38 billion) while RVNL mopped up Rs 104 crore (Rs 1.04 billion) from the market.

Besides, Railways expects to mobilise Rs 6,005 crore (Rs 60.05 billion) through the Public Private Partnership route during 2014-15.

"Extra Budgetary Resources, including market borrowings through IRFC, 'PPP' and other schemes, has been pegged at Rs 19,805 crore (Rs 198.05 billion)," Railways Minister Mallikarjun Kharge said in his proposals while presenting the Interim Rail Budget.

"While efforts of the government to provide precious financial resources for growth of Indian Railways would undoubtedly continue, the phenomenal investment needs of rail infrastructure cannot be met entirely through Gross Budgetary Support, Internal Generation of Railways and Market Borrowing.

"Railways have, therefore, started targeting private investment in rail infrastructure to bridge the gap," he said.