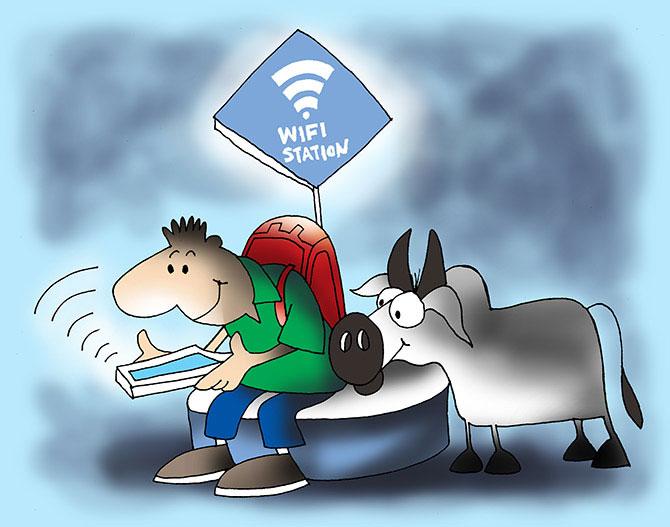 Reliance Jio saw fall in speeds from 7.2 mbps in September to 6 mbps in October, according to report.
The 4G data speed of Mukesh Ambani-owned Reliance Jio declined by about 20 per cent in October across 17 circles even as Bharti Airtel improved its speed while expanding footprint to 19 circles.
According to a report by CLSA, Reliance Jio saw a 20 per cent fall in speeds from 7.2 mbps in September to 6 mbps in October and with 17 of the 22 markets reporting the fall, a quick subscriber ramp-up led by 'free offers' impacted service quality in most markets.
The fall in Jio speeds is higher in data-heavy markets such as Delhi and Mumbai thanks to higher usage of 4G services in these markets.
During the same period, Bharti Airtel saw an increase in speeds in 10 of its 16 4G markets and also expanded its 4G service to cover 19 of the total 22 markets.
The findings are part of CLSA's second edition of quality of service tracker, which analyses the Telecom Regulatory Authority of India's speed test data based on 2.5 million and 0.5 million samples on 4G and 3G networks, respectively.
At 6 mbps, Reliance Jio's speeds were similar to the average speeds of Idea Cellular and Vodafone at 7 mbps but nearly half of Bharti's 11.5 mbps. The research firm said if Reliance Jio's 4G speeds do not improve, the new entrant might extend "free offers" beyond December adding risks to the data pricing of incumbents.
Idea Cellular also reported an increase in 4G speeds in six of its 10 4G markets and expanded its services to cover 11 markets during the month. "Among the four large operators, while Bharti Airtel and Idea Cellular have improved/maintained 4G speeds, Vodafone and Reliance Jio have seen a fall," CLSA said. The research firm said as the average 4G speed is still two to three times 3G speed, it could continue to drive migration from 3G to 4G services.
According to Trai data, during October, Bharti Airtel and Idea Cellular maintained 3G and 4G speeds despite rising 3G and 4G adoption.
However, CLSA said in case Jio extends the free offer, data realisations of incumbents will be impacted.
Since Reliance Jio's launch, incumbents have launched several promotional offers and this has impacted their data realisations.
During the second half of FY17, CLSA has forecast a 30 per cent year-on-year decline in the data realisation of Airtel and 25 per cent for Idea.
"A one per cent further fall in data realisations without any corresponding increase in usage could impact Ebitda (earnings before interest, taxes, depreciation and amortisation) by 0.4-0.8 per cent for Bharti Airtel and Idea Cellular, respectively," CLSA added.
---
Airtel gives more POIs to Jio, two call it a truce
Additional 7,000 PoIs sufficient to serve over 75 million customers, says Bharti Airtel.
The country's top mobile operator Bharti Airtel has provided over 7,000 additional points of interconnect (PoIs) to Reliance Jio, a move welcomed by the Mukesh Ambani-owned firm as it would solve the congestion issue and call failures.
The development follows meetings with Telecom Minister Manoj Sinha and Telecome Regulatory Authority of India Chairman R S Sharma with CEOs of Airtel, Vodafone, Idea and Reliance Jio earlier this week on the subject of breach of quality of service (QoS) parameters.
After recommending penalty to the tune of Rs 3,050 crore on Airtel, Vodafone and Idea Cellular, Sharma had asked the operators to solve the PoI issue with Jio mutually. Sinha too had said the bilateral issue should be resolved within the regulatory framework.
Airtel said with the additional over 7,000 PoIs, it has provided 17,000 PoIs to Jio till date, which is sufficient to serve over 75 million customers and this is well ahead of the timeframe, since there are currently only 25 million customers making calls to the Airtel network from Jio.
"This allocation was long overdue, considering the severe hardships caused to the customers of both operators in being able to connect voice calls between the two networks. More than 280 crore calls have failed between Jio and Airtel over the last three-and-a-half months because of absolute shortage of PoI capacity," Jio said in a statement.
Airtel said it has been providing PoIs to Jio, even before the commencement of commercial operations. Following the commercial launch of services by Jio on September 5, Airtel has released PoIs at a staggering pace, well ahead of its bilateral and regulatory obligations.
However, Jio said all operators have a mandatory and unconditional obligation under the licence to provide adequate PoIs to all the other operators and this is irrespective of the status of operations of the other operators or the traffic pattern.
In June 2016, Jio had provided its forecast of points of interconnect to Airtel. At a meeting on November 1, 2016, in the presence of Trai, Jio reiterated its requirement and requested Airtel to provide sufficient PoIs in line with its forecast of June 2016.
"Our regulatory obligations permit us to provide interconnect in a period of 90 days. With this augmentation Airtel has provided Jio capacity that is comparable to operators with six to eight times the customer base of Jio, in mere nine weeks of their launch," Airtel said.
Countering the 90-day period by Airtel, Jio said there is no entitlement of timing when it comes to such severe breach of QoS.
Airtel further added that it requests Jio to ensure that the additional PoIs be operationalised with the same alacrity.
Jio said it would like to reiterate that there has been no delay in operationalising PoIs at its end and also expressed hope that Airtel will continue to release adequate PoIs going forward to ensure that it adheres to the QoS parameter of PoI congestion mandated by Trai regulation at less than 5 per 1,000 calls at all times.
Regarding asymmetry of calls terminating on the Airtel network from Jio due to free services, Jio said the current traffic pattern is completely in line with what is expected in a new network.