India's rice exports look likely to fall about a quarter this year as it faces one-off cost spikes and rivals such as Vietnam, Pakistan and Myanmar sell at a discount of $35 to $50 a tonne, traders said.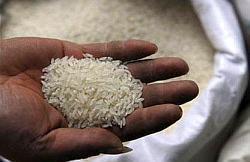 India, the world's biggest rice producer after China, exported a record volume, including aromatic basmati, in the year to March 31, 2012, and may in future resume such volumes, which saw it dislodge Thailand as the world's biggest seller.

But traders are now finding it difficult to repeat that feat, largely because of factors ranging from higher costs to a stronger rupee currency.

"Our exports are getting increasingly expensive and at the same time Pakistan and Vietnam are selling cheaper," Prem Garg, managing director of the Lal Mahal group, a leading New Delhi-based exporter, told Reuters.

Myanmar, a relatively small player, has also stepped up its exports to cash in on falling supplies from India, said another senior official at the Lal Mahal group, one of India's top three non-basmati rice exporters in 2011/12.

"Until a few weeks ago, most deals were done at $350 to $500 a tonne but now our prices have gone up to $370 to $550 a tonne, while our rivals are selling at $335 to $500 a tonne," Garg said.

Rich biodiversity helps Indian farmers produce a wide variety of rice, a staple in most Asian nations, reflecting a wide price band for exports.

All three rivals are snatching India's share in its traditional markets of the West Africa and East Africa, said Anil K. Mittal, chairman and managing director at New Delhi-based KRBL Ltd, another leading exporter.

Buyers in Africa are buying almost the same variety of rice but more cheaply from Pakistan, Vietnam and Myanmar, said Sanjeev Garg, a trader at CommCorp International, a New Delhi-based
trading company.
"We are facing stiff competition from Vietnam and Pakistan and the trend is very obvious now. We will not achieve last year's numbers," Mittal said.
The combined effect of local transportation costs, a strengthening rupee currency and an increase in the support price the government pays to farmers translates to a rise of $20 to $50 a tonne in India's export price, Garg said.
The government last month allowed fuel retailers to raise the price of subsidised diesel in steps equivalent to about one U.S. cent a litre every month.
The Indian rupee breached the key psychological 53-to-a-dollar level on Monday to rise to its highest in more than 3-1/2-months, on bullish risk sentiment and lined-up dollar inflows.
In June last year the government raised the price at which it buys rice from local farmers by more than 15 percent.
Resorting to protectionist measures when rice prices shot up in Asia, India clamped down on exports in 2009. But bumper harvests since have swelled supplies, with the state-run Food Corp running out of storage space.
Images of rotting grains in faded bags under tarpaulin sheets attracted criticism of the government, which allowed private traders to export in 2011.
But grain bins are still overflowing.
Rice inventory at government warehouses on Jan. 1 was 32.2 million tonnes, against a target of 11.8 million tonnes.
"With huge stocks at home, ideally we should have scaled last year's level but our shipments will instead fall," said M P Jindal, president of the All India Rice Exporters' Association.