Canada is the top supplier of pulses to India, which is expected to import 1 million tonnes more this year.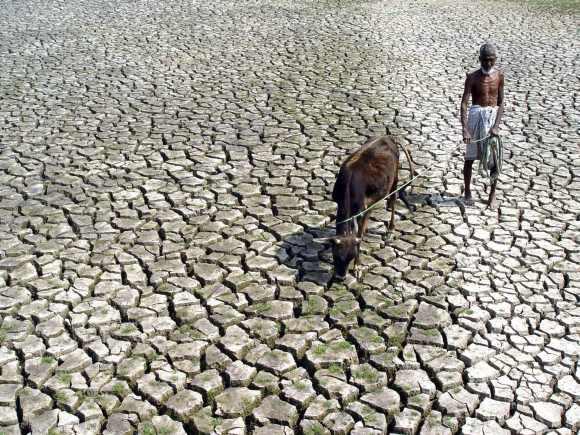 Prices for Canadian pulses typically ease towards the end of the year but a recent dry spell in distant India, the world's top producer and consumer, is driving them up.
Back-to-back drought years for the first time in three decades has eroded India's output of pulses and boosted imports.
Global prices of chickpeas, yellow peas and lentils have as a result hit record highs in what is a windfall for farmers in Canada, Australia, Russia, Myanmar and the United States.
Lee Moats, a western Canadian farmer, said he was selling red lentils for 50 percent more than a year ago, and was holding back crops in the hope that prices will climb higher.
"India is a very large pulse importer, and there is a shortfall, and that's where Canada comes in," said Moats.
Canada is the top supplier of pulses to the Asian country, which is expected to import 1 million tonnes more this year.
Bids to buy Canadian red lentils and yellow peas are far higher than normal for this time of the year, typically a period when prices ease with new supplies, said Chuck Penner, analyst at LeftField Commodity Research in Winnipeg.
Prices should get a further boost with Canada's 2015 pea output projected, by Statistics Canada, to drop 17 percent from a year ago to 3.16 million tonnes. Exports from Aug. 1 to Oct. 4 rose 5 percent to 906,000 tonnes, data from the Canadian Grain Commission shows.
"Things are going to get even tighter ... We are going to have to hit the brakes hard in terms of what we can supply to India," Penner said.
INDIAN APPETITE
Pulses are a key source of protein in India, which has been struggling to increase its output to meet local demand.
Imports could rise to 5.5 million tonnes this year, said Nitin Kalantri, a miller from the state of Maharashtra. This would cost India $4.5 billion, versus the $2.6 billion it spent to import 4.5 million tonnes in the year ended March, he added.
India, which consumes nearly 22 million tonnes of pulses annually, sources yellow peas and lentils mainly from Canada and the United States, chickpeas from Australia and Russia, and green gram and pigeon peas from Myanmar.
This year, India suffered a poor summer harvest and there are worries the drought will hit winter-sown chickpea after growing regions received as much as 40 percent less rainfall.
Canadian farmers are likely to plant more pulses next spring, assuming they will provide better returns than grains and canola, said Darren Lemieux, head trader of Simpson Seeds, a special crops processor and exporter in Saskatchewan.
($1 = 1.2984 Canadian dollars)