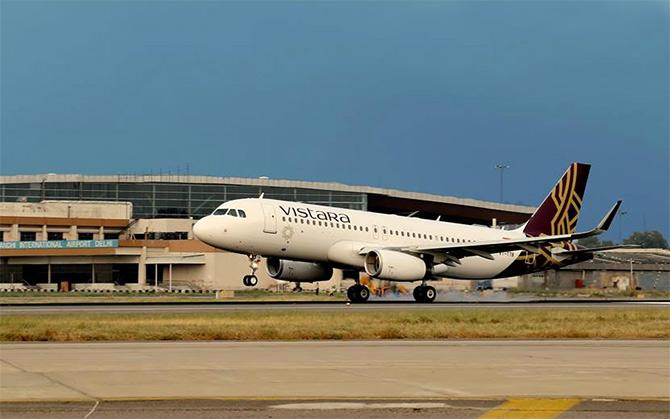 Image: A Vistara aircraft. Photograph: Kind courtesy, Facebook
The issue of high airfares and alleged predatory pricing ways came into the limelight, mainly with some Parliamentarians seeking regulations in this regard.
Many highs and lows marked the 2015 trajectory of domestic aviation space with three airlines taking off, one coming back after a near-collapse, a no-frills carrier getting listed and India again securing top safety ranking even as the draft aviation policy remained in limbo.
All said and done, fliers might have to shell out more from next year with the government proposing two per cent levy on all tickets to fund regional connectivity plans even as the draft policy promises various tax sops for the sector.
At the same time, Civil Aviation Ministry saw a change of Secretary while the two ministers -- Ashok Gajapathi Raju and Mahesh Sharma -- found themselves at different ends on various policy issues including on the idea of regulating airfares.
Image: An IndiGo aircraft. Photograph: Rediff Archives

Besides, M Sathiyavathy took over as the first woman head of regulatory body DGCA.
Towards the end of the year, a freak accident that saw a service engineer being sucked by an Air India aircraft engine at Mumbai airport, once again brought to the fore safety and security issues at airports.
In another unprecedented development, Chennai airport was shut for five days following heavy floods in early December.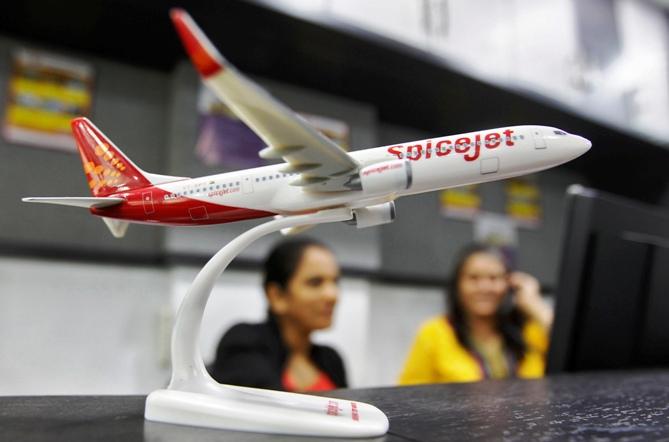 Image: Model of a SpiceJet Aircraft/. Photograph: Reuters
On the regulatory front, Competition Commission slapped a total penalty of Rs 258 crore (Rs 2.58 billion) on Jet Airways, IndiGo and SpiceJet for alleged cartelisation in fixing fuel surcharge on air cargo.
The order is likely to be challenged by them.
The disappointment of the year, however, is government's failure in finalising the re-drafted aviation policy, which will also decide the fate of existing norm for international operations by Indian carriers.
This is despite junior minister Sharma providing tentative time lines for the implementation of the policy.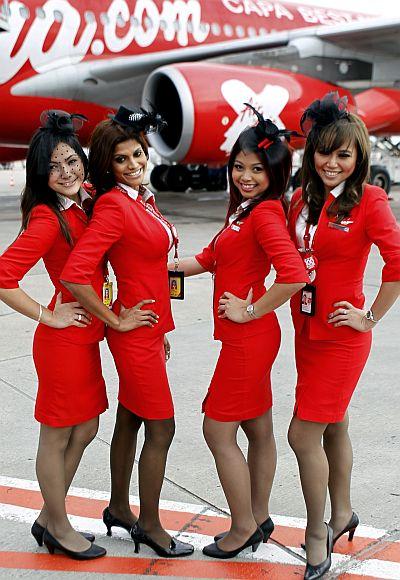 Image: Stewardesses pose in front of an Airbus A340 passenger jet. Photograph: Charles Platiau/Reuters
The year 2015 took off with Vistara launching its first flight to Mumbai from Delhi on January 9.
The Tata-SIA joint venture airline became the third domestic full service carrier after Air India and Jet Airways.
However, what made it stand out from the rest two was its roll out of a new cabin class -- premium economy -- in addition to conventional business and economy class on its aircraft.
Two regional airlines -- Air Paegasus and TruJet -- took wings with launch of services in the south.
After being on the verge of closure, SpiceJet scripted a dramatic comeback by remaining profitable for three straight quarters till September under its new promoter Ajay Singh -- who took back the reins from the Marans.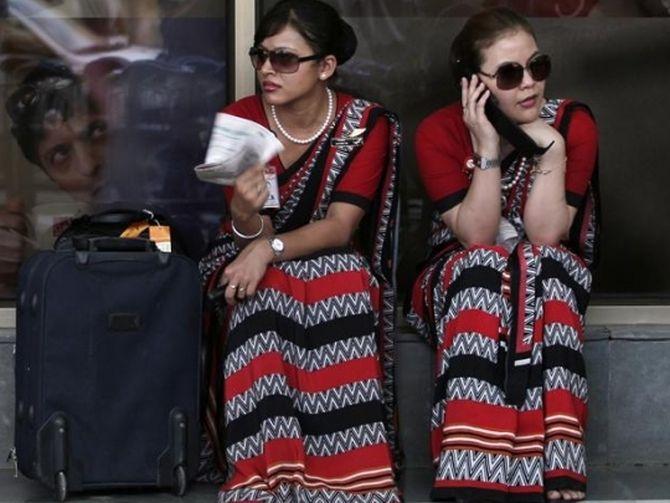 Image: Air India stewardesses. Photograph: Reuters
Marking the first airline IPO in nine years, InterGlobe Aviation -- the parent of budget carrier IndiGo -- raised over Rs 3,000 crore (Rs 30 billion) from the capital market.
Towards the fag end of 2015, Jet Airways saw another churn in the top deck with the resignation of Crammer Ball as chief executive officer.
Besides, from next March, the carrier would shift its European hub to Dutch capital Amsterdam from Brussels.
In September, it was announced that subsidiary JetLite would merge with parent Jet Airways.
Another carrier GoAir saw the exit of its top executive Giorgio D Roni, who was replaced by former Jet Airways CEO Wolfgang Prock-Schauer.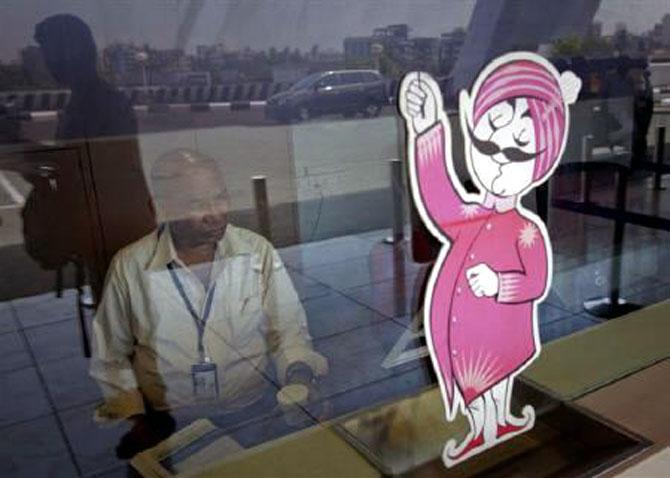 Image: A Vistara aircraft. Photograph: Kind courtesy, Facebook
Meanwhile, bickering at start-up airline AirAsia -- a three-way joint venture among Malaysia's AirAsia, Tatas and Arun Bhatia's Telestra Tradeplace -- spilled into the public.
Bhatia raised concerns about the state of affairs at the carrier, which is still struggling to break even despite being in the air for over an year.
For state-owned Air India, a change at the helm happened with the appointment of non-IAS officer Ashwani Lohani as CMD.
An Indian Railways Service officer, Lohani has the uneviable job of turning around the loss-making carrier, which among others, recently started direct services to West Coast in the US with a flight to San Francisco from Delhi.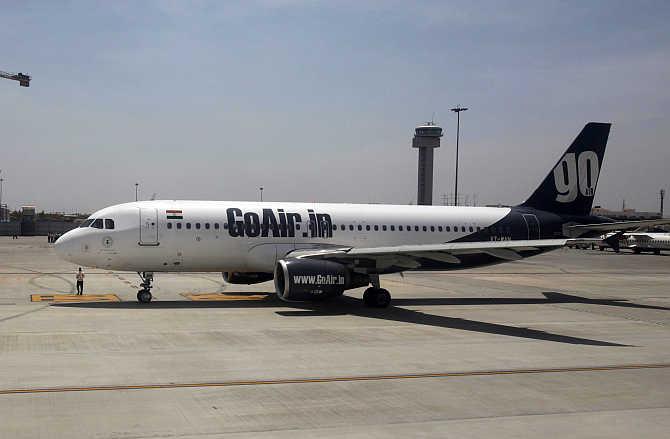 Image: A GoAir aircraft taxis on the tarmac at Bengaluru International Airport; Photograph: Vivek Prakash/Reuters
On the consumer side, the issue of high airfares and alleged predatory pricing ways came into the limelight, mainly with some Parliamentarians seeking regulations in this regard.
While there was a lot of fuss over air ticket pricing ways, the issue was finally put to rest by Sharma, when he recently informed the Parliament that there was no proposal before the government to regulate airfares.
In a move that would burden fliers, the government in the draft policy has mooted 2 per cent levy to fund regional connectivity plans.
Also, various tax sops and over 50 per cent foreign direct investment for the Indian carriers have been suggested in the draft policy.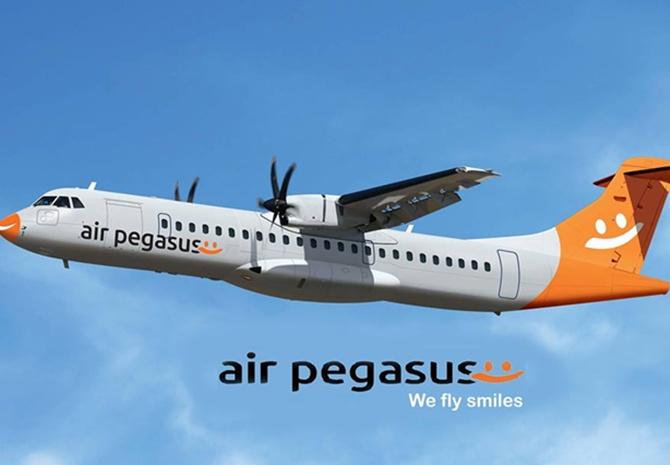 Image: An Air Pegasus aircraft. Photograph: Kind courtesy, Pegasus
Sectoral watchdog Directorate General of Civil Aviation got its first women head when 1982-batch Tamil Nadu cadre IAS officer M Sathiyavathy assumed office on January 5.
Under her stewardship, India's aviation safety rating was restored to top category by the US aviation regulator Federal Aviation Administration, which had in January 2014 downgraded rating to Category 2.
At the Ministry level, R N Choubey replaced V Somasundaram as Civil Secretary in June.
When it came to certain policy matters, flip-flops continued throughout the year.
In a surprising move, the Aviation Ministry scrapped the proposal to privatise four airports at Kolkata, Chennai, Jaipur and Ahmedabad, despite floating invitation for bids.
The U-turn came after the deadline for bids was extended multiple times.
Further, the government decided not to sell stakes in Airports Authority of India and Pawan Hans Ltd for the time being.
Springing a surprise, the government announced signing of pact between AAI and Singapore Economic Council for management and operations of Ahmedabad and Jaipur airports by Changi Airport.
The decision, taken during Prime Minister Narendra Modi's visit to Singapore in late November, elicited strong protests from Congress and Communist Party of India-Marxist.