Indian-American Professor Sanjay Sharma, dean of the John Molson School of Business at Concordia University, has been appointed dean of the School of Business Administration at the University of Vermont.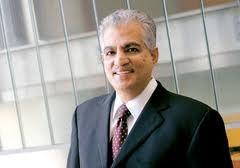 Sharma comes to UVM with a unique background in both the private sector and academia including 16 years of senior management experience with international corporations and more than a decade of proven leadership within higher education.

During his four-year tenure at JMSB, the sixth largest university in Canada with more than 45,000 students, the varsity established itself as one of the top business schools globally.

Sharma began his academic career as an associate professor and director of the Executive MBA Programs at Saint Mary's University in Halifax where he improved the national ranking of the EMBA programme in Canadian Business from a ranking of tenth to third-place.

He earned his doctorate in management in 1996 from the University of Calgary and his MBA in 1976 from Panjab University, India, where he received the gold medal.

He completed his undergraduate work in 1974 at the University of Delhi. "I welcome the opportunity to work with the leadership team at UVM and the BSAD faculty and staff to build on the strengths of the school and realise its potential as a globally recognised unique destination for excellence in management education and research," Sharma said.

"I also look forward to actively engaging the BSAD alumni and the Vermont business community in achieving this mission, attracting new resources, and helping to strengthen the economic vitality of the state.

"I could not be more excited at the prospect of joining such a vibrant academic community, and I deeply appreciate the confidence that has been placed in me by the university. Be assured that I will do my utmost to ensure that this confidence is well placed."

Prior to his academic career, Sharma was a senior level manager at multiple international corporations.

Sharma also held the prestigious Canada Research Chair in Organisational Sustainability and was professor of policy in the School of Business & Economics at Wilfrid Laurier University.

A 2001-2002 Fulbright Scholar, Sharma has won several research grants and has expertise in corporate environmental strategy, corporate sustainability, competitive strategy, stakeholder engagement and organisational innovation.

He has co-edited six books on corporate environmental management and sustainability.