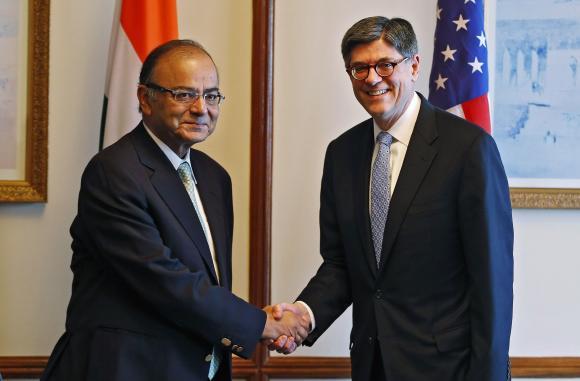 India and the United States vowed on Thursday to step up joint efforts to halt illicit money flows after revelations that Iranian oil export revenues had been siphoned out of an Indian bank in a suspected money-laundering scheme.
Finance Minister Arun Jaitley said the case centering on state-controlled UCO Bank had not come up as part of his talks with US Treasury Secretary Jack Lew, but added that Indian authorities had strengthened their financial oversight.
"This issue has been brought to our notice and the concerned authorities, including the central bank, have taken appropriate action," Jaitley told a joint news conference in New Delhi.
Investigators suspect that a group of people from Iran and Azerbaijan, after entering India on student visas, set up a group of shell companies in a provincial city to obtain as much as $3.2 billion from UCO Bank .
The advances were secured against export invoices that were never followed by actual deliveries, according to sources familiar with a probe by the Enforcement Directorate, an agency that fights financial crime.
The funds were wired to destinations like Dubai or Hong Kong, sources say.
Investigators have traced Rs 9.25 billion ($150 million) in dubious flows, but suspect the total could be as high as Rs 200 billion.
The Reserve Bank of India (RBI) ordered banks on Monday to tighten checks on advances paid against trade invoices, in a step that a source familiar with the ruling said was linked to the UCO case.
Lew, who met RBI officials in Mumbai on Wednesday, said India and the United States were deepening their cooperation to thwart what he called "threat finance".
"It's because we share common threats (that) we share a common commitment to working together to try as best we can to shut down the flow of funding to those who would commit terrorist acts," he told reporters.
UCO Bank has denied any wrongdoing in the case and has said it is helping Indian investigators with their inquiries.
Image: US Treasury Secretary Jack Lew (R) shakes hands with Finance Minister Arun Jaitley before the fifth US.-India Economic and Financial Partnership Dialogue in New Delhi.
Photograph: Adnan Abidi/Reuters