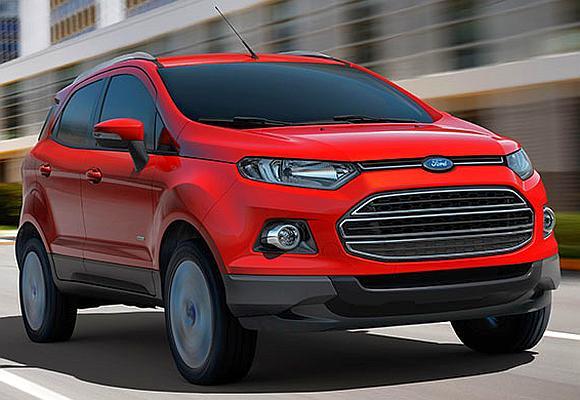 With India leading the small SUV market and attracting majority of investments from Ford Motor Company, the country is set to become a hub for the US automobile major, a top official said.
"Yes. Absolutely. That is our dream. India is great market and an indicator of about what people really want in vehicles around the world. The (latest SUV from Ford) Ecosport is a really good example", Ford Motor Company President and Chief Executive Officer, Alan Mulally said.
Observing that India is one of the important markets for Ford globally, he said, "small SUV segment on the B size platform is the fastest growing segments which is led by India. We are making Ecosport in five locations around the world. And it is going to be most popular vehicle worldwide. So it (The launch) is very important launch for us".
He said Ford is making long-term commitments on strategies in rolling out products and currently is on a "positive path" on its growth.
"We are number one brand in United States and number two in all Americas. In Europe we are the fastest growing brand. We have made tremendous commitment in terms of man and money investments", he said.
Asked about the company's focus on its Asia-Pacific operations, Mulally said the management has not made any specific time frame on reaping profits, but expects a significant revenue to be contributed from this region.
"Clearly, in the next few years, it (Asia Pacific region) is going to be a major contributor to Ford. I think in four-five years,40 per cent of revenue will come from Asia Pacific. This is the largest growing region in the world", he said.
Currently, Ford has garnered about three per cent market share in the Asia Pacific region. Elaborating, Ford Group Vice-President and President (Asia Pacific), David Schoch said the company has lined up some strategies in growing the business in the region.
"We have got certain plans under construction throughout the Asia Pacific. We have got five plants in China and two in India. We are working hard. This (region) is going to be a major contributor for Ford", he said.
To a query, Mulally said products to be launched will be based out its popular 'B' size segment. Noting that the company was shipping its popular hatchback 'Figo' to 38 countries from India, Mulally indicated that they would continue exporting its products in large numbers from India.
"We are going to continue export of more and more vehicles from India. Because India is so competitive. More and more vehicles getting exported is great for India and (also for) Ford", he said.
On the latest SUV -- Ecosport from its stable, Ford India, President and Managing Director, Joginder Singh said "we are on the verge of something exciting for Ford India. We believe it is not only a game changer for Ford in India, but we are going to set a new standard in the industry as well".
Stating that top company executives had visited the plant at Maraimalai Nagar near here, Singh said "our shipments have begun and all our dealers are accepting bookings (for Ecosport) as we speak. We see a very clear milestone in the launch of Ecosport".
Currently, Ford India makes Figo, mid-size sedan Classic, premium SUV Endeavour and the premium sedan Fiesta. It also manufactures engines from the Maraimalai Nagar facility.