Like the rest of corporate India, Larsen & Toubro executive chairman A M Naik will not be amused by the modified land acquisition bill - Land Acquisition, Rehabilitation and Resettlement (LARR) Bill - cleared by the group of ministers (GoM) on Tuesday.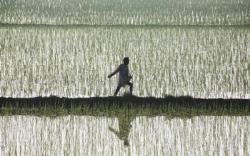 It was Naik who had complained early this year that the cost of projects such as the Navi Mumbai airport will go up by around Rs 4,500 crore (Rs 45 billion) as the draft bill made it mandatory to give hefty compensation to landowners, and that too with retrospective effect.
Although the GoM, chaired by Agriculture Minister Sharad Pawar, has scrapped the retrospective effect clause of the Bill, a new cut-off date will decide the fate of many projects across India.
On Wednesday, Naik refused to comment on the modified bill, citing the silent period ahead of quarterly results. But L&T insiders say even in the modified form, the bill would substantially inflate the cost of acquiring land for infrastructure projects.
The Bill will be tabled in the winter session of Parliament later this year.
Others like DLF group executive director Rajeev Talwar are more vocal. "When land prices go up, it will push up project costs by many times over, as land constitutes a big portion of any project cost. You will not see big projects now. Not many developers will be willing to launch large projects as not many can afford resettlement and rehabilitation," said Talwar.
In cities such as Mumbai, land costs constitute 70 per cent of the project cost. Similarly, for airport and road projects, where large tracks of land parcels are required, the high acquisition cost will make projects unviable.
The good news will, however, be that setting up projects in rural areas would bring down project costs substantially. A JSW Steel official said that the land cost for a steel plant will be just 5 per cent of the project cost, if it is set up in rural areas.
The run-ins of Indian companies with farmers while acquiring land has made headlines worldwide. The Tatas had to shift their car project from Singur in West Bengal to Gujarat due to violent protests by local farmers. Mukesh Ambani's Reliance Industries's special economic zone project near Mumbai was scrapped after landowners refused to part with their land.
According to the modified land acquisition Bill, the consent of two-thirds or 66 per cent of landowners would be enough for acquiring land for public-private partnership (PPP) and private projects. Earlier, the consent of 80 per cent people was required for both PPP and private projects. The modified Bill says that compensation will be two times the market value of land in urban areas and four times the value of land in rural areas, a step down as compared with two to six times required earlier.
Analysts said achieving the fine balance between promoting industry and fulfilling social objectives will not be easy for the government. The Bill is likely to remain controversial, especially given centrality of land as a means of livelihood to farmers and the usage required for promoting industry.
"We expect to see heated debates on the same (the Bill) when it comes for discussion in Parliament. Given the impending elections in 2014, the provisions of the Bill will become some of the key talking points. Also, there will be strong reactions from both industry and farmers on this issue," wrote JPMorgan analyst Sourabh Kumar in a post-GoM meeting report.