Skilling of people to use new technology in manufacturing should be encouraged, said Sun Pharma MD Dilip Shanghvi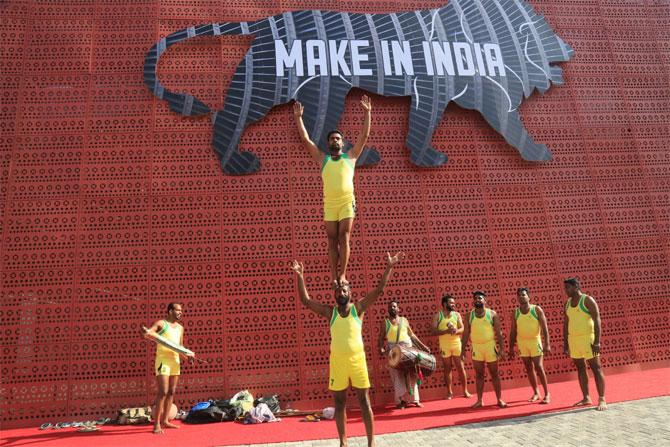 Leading industrialists on Monday came out in support of the need for developing a 'skilling corridor in Maharashtra', which would attract investments, take the industry to a new phase and create jobs for the youth in the state.
"We need to understand that going forward, production is likely to gravitate towards where skills are available," Baba Kalyani, chairman of Bharat Forge, said at a session in the ongoing Make in India week in Mumbai.
"There is a global consensus that over 65 per cent of jobs of the young (25-year-olds) today are not even likely to be known, so re-skilling is very important."
Sun Pharma MD Dilip Shanghvi said while 70 per cent of the pharma business is managed from Maharashtra, manufacturing has moved to other states.
"In order to bring back manufacturing here (in Maharashtra), we need a conducive environment to nurture research centres. Skilling of people to use new technology in manufacturing should be encouraged," Shanghvi added.
Maharashtra Chief Minister Devendra Fadnavis pointed to the dichotomy that 50 per cent of jobs in the state come from agriculture, but add just 11 per cent of GDP.
He stressed on the need to develop the agriculture sector by linking it with food processing and supply chain.
"I feel that in Maharashtra, the agriculture sector needs to be connected with other sectors like service and industry like food processing. We can create jobs if this happens seamlessly," Fadnavis said.
The state, which is the largest contributor to the country's GDP at 13 per cent and accounts for 12 per cent of consumption, also has the highest skill availability which needs to be re-skilled for right jobs, the chief minister added.
According to Nikhil Meswani of Reliance Industries, there's need to create a Mumbai-Pune intellectual corridor.
Photograph: Sahil Salvi