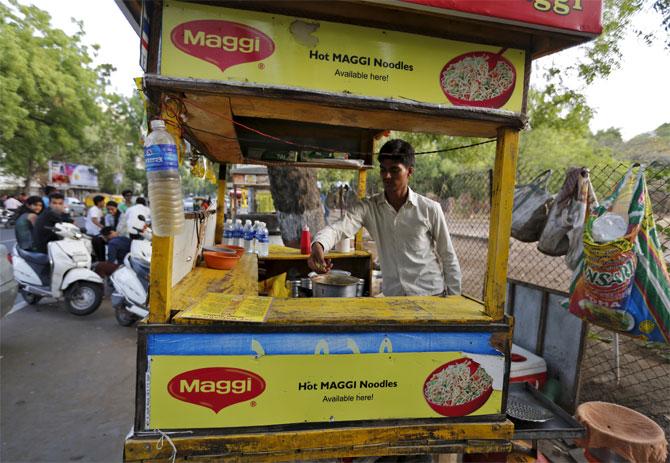 The government has filed a lawsuit against Swiss food firm Nestle's Indian unit, seeking Rs 640 crore ($99 million) in damages on behalf of consumers after the country's worst packaged food scare in a decade.
Nestle, the first foreign firm in India to face a similar damages claim, is already weathering its worst public relations crisis in the country to date, after regional food safety regulators reported finding excess lead in its popular Maggi noodles, a result the company disputes.
The government's lawsuit, citing unfair trade practices, the sale of defective goods and the sale of a product without approval, has been filed in the National Consumer Disputes Redressal Commission, a quasi-judicial body whose rulings are legally binding.
"The department took exception (given) that Maggi was largely consumed by children and Nestle's advertisements aimed at popularising Maggi among children," said a government official at the food ministry.
Maggi instant noodles are hugely popular in India as a cheap, quick snack, popular with school children and office workers and are available at countless roadside eateries. They were withdrawn by Nestle in June after the food scare broke.
The official said the government had arrived at the size of the fine by "keeping in mind the numbers of consumers, the size of the market and the number of complaints received". He did not want to be named because he is not authorised to talk to media.
A Nestle spokesman in India said the company had not yet received official notice of the government lawsuit. "We shall be able to provide substantive response after we receive the official papers," he said.
A regulator in the northern state of Uttar Pradesh said in May it had found lead above permissible levels in a sample of noodles, prompting denials from Nestle, which says it has carried out hundreds of its own tests, and a debate on India's safety standards and testing capacities.
Nestle has challenged the food safety regulators' findings in court, and has demanded a retest of the samples. Those results are not yet public.
Nestle India, which reported a second-quarter loss last month after a plunge in sales following the recall, has said it is making "all efforts" to bring Maggi noodles back into the market.

Poll: Do you want Maggi back?