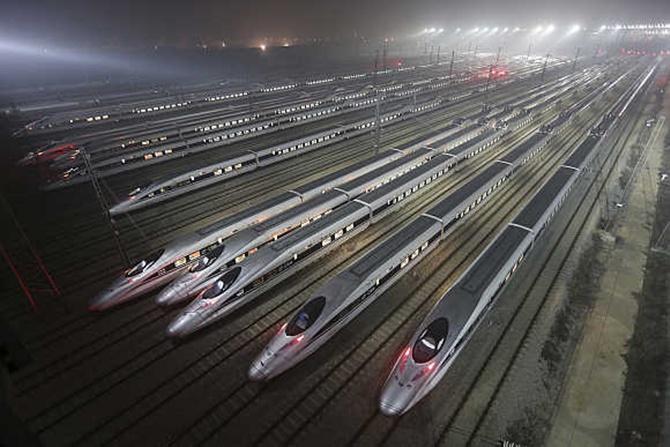 An Indian Railways team is in China to chalk out plans for conducting feasibility study to build the 1,754 km-long Delhi-Chennai high-speed train corridor, world's second largest bullet train line.
The high-level team of officials from Rail Vikas Nigam Limited led by Satish Agnihotri arrived on November 24 and is in talks with China's High Speed Rail Corp to build the Delhi- Chennai corridor for which the communist giant has agreed to conduct the study free of cost during President Xi Jinping's visit to India in September, officials here told PTI.
The proposed corridor could be the second largest in the world after China's 2,298 km-long Beijing-Guangzhou line which was launched last year. Running at a speed of 300 km per hour, it covers the distance in about eight hours.
The Delhi-Chennai high speed line could cost around $32.6 billion, state-run China Daily quoted Chinese officials as saying. India is currently considering two corridors for high speed trains.
While Japan is conducting feasibility study for the Bullet train project in Mumbai-Ahemdabad corridor, China will do the same for the Delhi-Chennai route which expected to begin by early next year.
Under the agreement, China has agreed to provide training in heavy haul for 100 Indian Railways officials, redevelopment of existing railway stations and establishment and establishment of railway university in India.
The training was expected to begin soon.
The two nations have also agreed to cooperate to identify the technical inputs required to increase speed on the existing railway line from Chennai to Mysore via Bangalore.
The Delhi-Chennai route is part of the proposed Diamond Quadrilateral project, which aims to build a high-speed train network between different cities, including Delhi-Mumbai, Mumbai-Chennai, Chennai-Kolkata, Kolkata-Delhi and Mumbai-Kolkata.
Currently, Rajdhani Express train covers the distance between the two cities in 28 hours and as per the plan, the proposed bullet train at 300 km per hour speed will reduce the travelling time to six hours.