Fairfax Financial Holdings made three investments in a month: including open offer for IIFL, buy out of Kuoni's India operation and majority stake in NCMS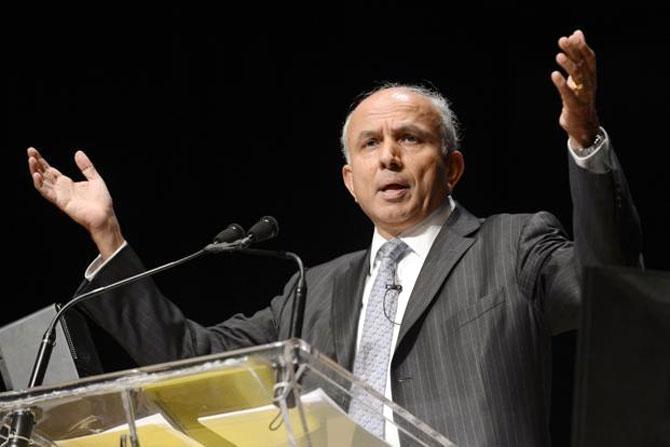 Prem Watsa, known as the "Canadian Buffet" for his contrarian approach to investment, has now got aggressive on India like never before. The Hyderabad born 65-year-old promoter of Fairfax Financial Holdings, which has a $10.5 billion market cap, has announced three acquisitions in India in about a month's time.
Two of these include the offer to buy additional 26 per cent stake in India Infoline for Rs 1,621 crore (Rs 16.21 billion) and buy-out of a 74 per cent stake in National Collateral Management Services, has come from the newly created $1 billion fund under Fairfax India in November. Watsa created this fund through an initial public offer on the Toronto Stock Exchange after his meeting with the Prime Minister Narendra Modi in November last year.
Another acquisition announcement came this month when Thomas Cook India acquired Kuoni Group's travel operations in India and Hong Kong for Rs 535 crore (Rs 5.35 billion). Thomas Cook India has been used by Watsa as his investment vehicle for myriad acquisitions in the country since May 2012 when he bought a 77 per cent stake in the multinational travel company's India business through his fund Fairbridge Capital.
"Mr Watsa has seen the world and various enterprises, right now he is bullish on India," says Nirmal Jain, founder and chairman India Infoline (IIFL) Group. Fairfax's open offer valuation pegs IIFL as a billion-dollar firm in terms of market cap, one of the largest amongst peers.
Watsa first invested in the financial services firm in 2011 when he acquired a 9 per cent stake through Hamblin Watsa Investment Counsel Fund (HWIC Fund). Despite the open offer there is no question of a management change at IIFL as Fairfax have publicly stated. Also IIFL promoters are not offering any shares in the open offer. "He raises money through share capital and not as a fund structure, therefore, he is not under any pressure to redeem or return the money after a few years," says Jain.
Watsa's interest in Indian financial services is not new. He acquired a 26 per cent stake in general insurance company ICICI Lombard in 2001 through HWIC Fund. He also served as a director on the board of ICICI Bank from 2004 to 2011.
V Vaidyanathan, chairman at the Mumbai based financial institution, Capital First Group, remembers Watsa as a warm and collected person who would not get carried away by good or bad. The former ICICI group veteran saw him from close when he was on the board of ICICI Bank along with Watsa during 2005-2010.
"In 2007-08 when the RBI had just started raising rates, but the Indian economy was yet sprinting, he sent me a book A Demon of Our Own Design by Richard Bookstaber, which I read end to end twice over," says Vaidyanathan. "He does not go with the flow and has a cautious outlook when things are great and opportunistic outlook when things are down."
Watsa, an alumnus of IIT Madras, left for Canada soon after graduating in 1971. He joined the University of Western Ontario to get a management degree. He began his career at Confederation Life Insurance Co in Toronto, and in 1984 co-founded Hamblin Watsa Investment Counsel, now part of Fairfax. He took control of Markel Financial Holdings the next year and in 1987 renamed it as Fairfax.
He came to global limelight when Fairfax made a $4.7 billion bid for troubled smart phone maker BlackBerry. Then Fairfax was already the largest shareholder in BlackBerry with a 10 per cent stake. The troubled company abandoned the bid later as it turned to a $1 bn fund-raising plan in a battle to stay afloat.
"Our investment philosophy is based on the value approach as laid out by Ben Graham and practised by his famous disciple, Warren Buffett. This means we buy stocks of financially sound companies at prices below their underlying long-term value. We expect to make money over time, not in the next month or two," he said in his first annual report in 1985.