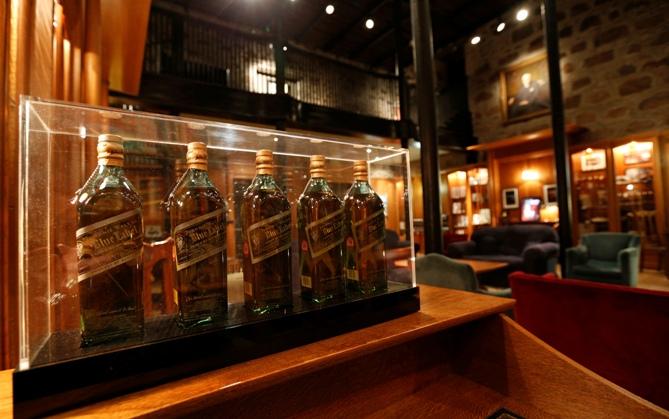 The museum room is seen at the Diageo Cardhu distillery in Scotland. Photograph: Russell Cheyne/Reuters
Scotch lovers have a reason to worry. There are fears that the pricing and availability of the cherished liquor could be impacted if a majority of the people vote in favour of Scotland's independence on Thursday.
Independent Scotland would probably mean exit, even if temporary, from the European Union, which enables duty-free access to 27 countries.
According to senior industry officials, the key factor would be the EU access and what shape does it take if at all Scotland goes for independence.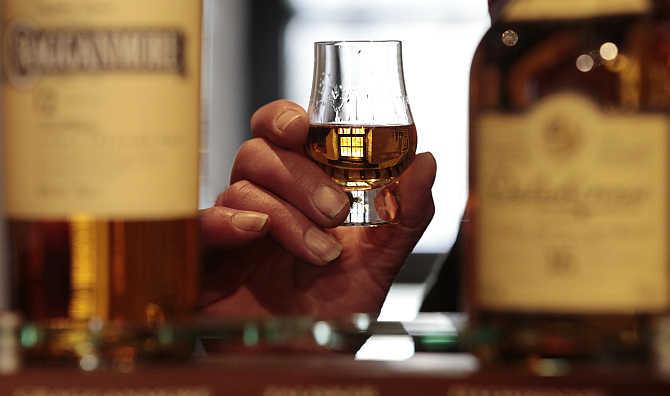 Indian whisky market is witnessing a boom.

Photograph:

David Moir/

Reuters

"Even a temporary interruption of EU membership would be damaging and difficult to manage," said Scotch Whiskey Association on the Scotland referendum.
India is one of the biggest markets for Scotch whisky.
The market in India is expected to cross the three-million-case mark by the end of this calendar year. Last year, Scotland's 109 distilleries sold £4.3 billion (about Rs 4,268.25 crore) worth whisky abroad, the country's second-largest export after oil, according SWA.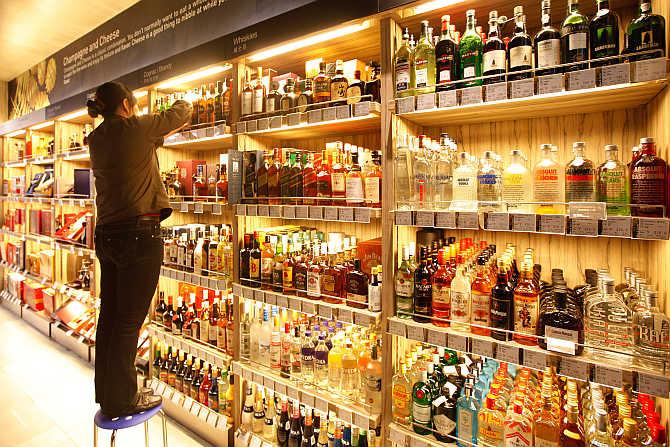 An employee arranges bottles of whisky at a supermarket in Shanghai, China. Photograph: Aly Song/Reuters
"If the majority votes are 'Yes' then another factor, which would be key to Scotch consumers is the new currency an independent Scotland would go for," said a senior industry official, who is in the business of importing scotch whiskey in India.
The quantum of price impact would be clearer once the results are out and detailed road maps for future are put in place, said the official quoted above.
An email to British High Commission remained unanswered.
A source said the high commission would respond only after the voting results are announced.
"Communication would only be made once results are out."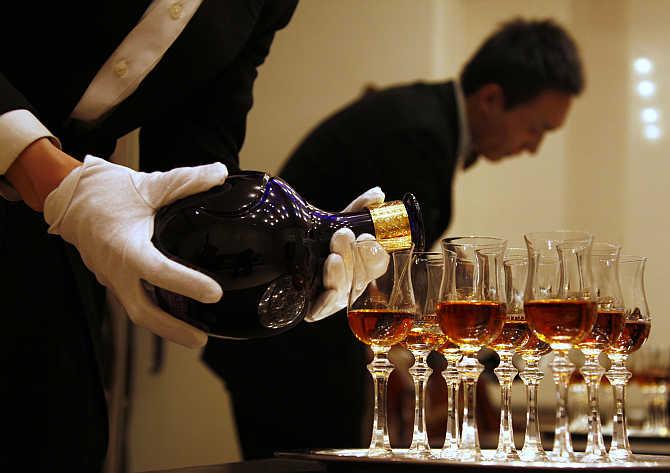 waiter is reflected in a mirror as he pours whisky in Beijing, China. Photograph: David Gray/Reuters
A whisky is called Scotch only when it is produced and matured in Scotland for a minimum period of three years.
Global scotch majors are also not revealing too much on the impact of the outcome of the referendum.
Brown Forman, which sells the Jack Daniels Scotch whisky, also did not respond to an email.
Ivan Menezes, CEO of Diageo, the world's largest Scotch whisky maker, was quoted in the Wall Street Journal that it was extremely important for the whisky industry to remain within EU to enjoy the established network to various countries.
SWA, on a macro perspective over the referendum, remains neutral and has said it remained committed to the cause of delivering sustainable economic growth, irrespective of the outcome of the referendum.
Indian Scotch connoisseurs would be closely tracking the results.