There has not been a large impact of untimely rain and hailstorm so far in several major wheat-growing areas, and those might have damaged around 3 per cent of the standing crop -- not enough to make a big dent in the expected 112 million tonnes of production in FY24, a senior government official said on Tuesday.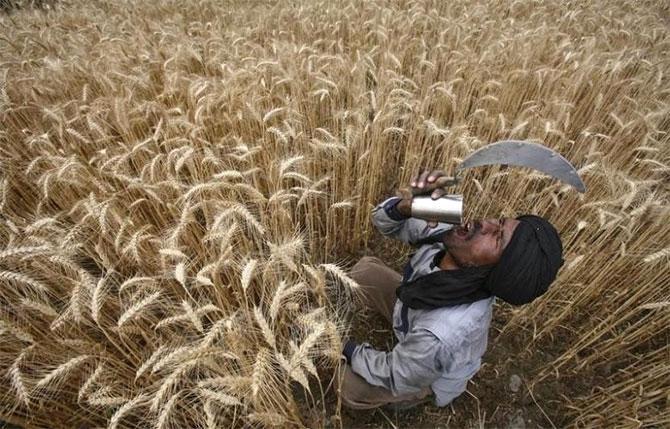 Relentless rain pounded most North Indian states all through March.
Separately, the chairman of Food Corporation of India (FCI), Ashok K Meena, told reporters the agency was on track to achieve the targeted 34 million tonnes of procurement in FY24 on the back of a strong start to the purchase season from Madhya Pradesh.
He said wheat procurement would not be delayed anywhere in the country owing to rain and FCI centres would open in time.
However, it depends on the farmers whether they would delay bringing the crop to ensure it is properly dried to get the best value, he said.
Gyanendra Singh, director of the Indian Institute of Wheat and Barley Research (IIWBR), told Business Standard: "As of now the ground situation is that at best the loss due to recent rain and hailstorm in wheat-growing areas is not more than 3 per cent but despite that we are on track to reach the estimated 112 million tonnes of production in FY24."
He said his institute had communicated this to government authorities.
The institute is among the country's foremost centres for research and crop development on wheat and tracks crop progress in the main production zones.
Singh, however, sounded cautious about the next round of rain and hailstorm predicted to take place in Northern states on March 29 and 30, saying that those could have a bad impact on the crop that had been already lodged in water.
The India Meteorological Department (IMD) in its latest forecast issued on Tuesday said a fresh spell of rain, hailstorm, and thunderstorm was expected over North-West India from the night of March 29 to April 1.
"My understanding is that it (the new bout of rain) will be scattered, and when we estimated that wheat production in the 2022-23 crop season will be around 112.18 million tonnes, it was made after accounting for all weather-related uncertainties," Dr P K Singh, the agriculture commissioner to the Central government said on the sidelines of a press meet.
On procurement, Meena said the season had started on a healthy note with the agency purchasing over 10,000 tonnes of wheat in Madhya Pradesh on the first day of procurement on Monday while arrivals were over 500,000 tonnes.
"Last year, in the whole of March we had procured over 10,000 tonnes from MP but this year on the first day itself it has been achieved," Meena said.
He said on April 1, the country would have wheat stocks of around 8.5 million tonnes, which would be almost a million tonnes more than the buffer norm of 7.5 million tonnes.
"On the quality of wheat due to rain, FCI has a standard procedure to assess the need for any value cut and will adhere to it if required," Meena said, adding that there would not be any easing of the export ban on wheat.