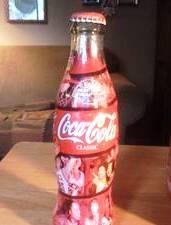 The last of the iconic 6.5-ounce Coke bottles has reached the end of the line in the US.

The bottles, cast for the Minneapolis Coke bottling works in 1948 was the last glass returnable bottle filled and capped in the US.

"This is the last one," LeRoy Telstad, vice president and general manager, said, holding the bottle high before handing it off to auctioneer Jon Kohner.

Five minutes and $2,000 later, Michael Faber, president of Viking Coca-Cola of S Cloud, became the proud owner of what is doubtless the most expensive bottle of pop ever sold in Winona.

Faber allowed a bottle opener nowhere near his prize acquisition, 'Winona Daily News.com' reported.

"I plan to retire on this one day," he said of his one-of-a-kind purchase.

Others who want their own sip of soft-drink will have an opportunity beginning next week to purchase one of the remaining 5,879 bottles
filled during the final bottling run.
Telstad said that the last 6.5-ounce bottles will be sold for 20 dollars each, with all proceeds going to resurface Winona's bike and walking paths.
The last run of returnable bottles in Winona "is the concluding chapter to a long story," Phil Mooney, Coca-Cola's chief archivist, said.
The Winona Coca-Cola Bottling Comapany has been filling the bottle since it opened in 1932, eighty years ago.
The first Coke was sold in 1886 at a drugstore soda fountain in Atlanta.
Coke was strictly a soda fountain product until 1894, when a Mississippi Coca-Cola wholesaler, Ollie Biedenharn, got to wondering if people out in the country would buy in bottles they'd gotten a taste for when they came into town.
The bottled Coke first sold in Vicksburg and then across the US wouldn't be sold in what we know of as "Coke bottles" for 21 years, Mooney said.
The iconic bottle was the product of a 1915 design competition won by the Root Glass Company of Terre Haute, Indiana.