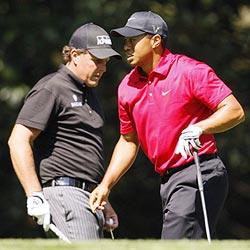 Even with no title on the line, the Tiger and Phil Show still pulls in the crowds as the world number one and two proved when they went toe-to-toe in the final round of the BMW Championship on Sunday.
Eight shots off the lead and teeing off nearly two hours ahead of the final pairing of Ryan Moore and Dustin Johnson, Tiger Woods and Phil Mickelson may have been out of contention but they were never out of the spotlight.
It marked the 26th time Woods and Mickelson had been paired together and, while the meeting lacked significance, there was no shortage of the electricity and drama that accompanies all great rivalries.
"Hey Tiger, what's up man?" offered Mickelson as the two players appeared on the first tee.
"Phil, how's it going?" Woods replied.
With pleasantries exchanged, the two golfers retired to their respective corners, Mickelson setting up on one side of the tee box and Woods the other.
While Mickelson and Woods had few words for each other, the galleries had plenty to say.
From the Chicago Black Sox to Governor Rod Blagojevich, residents of Chicago are no strangers to scandal and the galleries showing Woods plenty of love despite the ongoing revelations of infidelity that resulted in his recent divorce.
"I think we're a little more tolerant here," said Jack after watching Woods par his opening hole. "This is a very liberal city. We forgive everybody even (President) Clinton."
While Woods enjoyed a slight edge on the applause metre, Mickelson was not without his supporters in the crowd lined up five deep to catch a glimpse of the world's two most famous golfers.
MICKELSON SPURRED
Coming into the final round neither player had performed even close to their peak form but the presence of Woods spurred Mickelson to his best round of the week, a four-under 67 to level their lifetime series at 11-11-4.
"I enjoy it," said Mickelson. "He certainly brings the best out in me. That wasn't the case earlier on.
"But I love playing with Tiger, I feel like he gets the best out of me now."
Woods did not enjoy the day quite as much, his PGA Tour season coming to an early end after failing to earn spot in the Tour Championship.
For the first time in 15-years, Woods finished his PGA Tour campaign without claiming a single title but the world number one managed to exit with three birdies on a bogey-free back nine for a final round one-under 70.
The back-nine charge, however, was far too little, too late to earn Woods a place in the elite 30-man field with for the lucrative season-ending Tour Championship.
So while Mickelson will be in Atlanta chasing the $10 million bonus, Woods will be at home practising.
"I was looking forward to only getting one week break but now I've got two," said Woods. "It'll be good because now I can practice at home in peace and away from everybody and put some work in.
"It'll be nice to work on all these little things and concentrate on my game a little bit more."