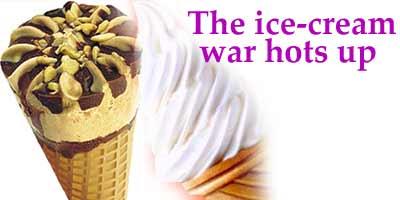 Summer has started unusually early this year. And, as the mercury rises nobody is happier than the ice-cream manufacturers who are already filling their ice-boxes with dollops of new, mouthwatering flavours.
Out there in front is the hungry-for-growth Rs 3,500-crore (Rs 35 billion) Anand-based Gujarat Co-operative Milk Marketing Federation which markets the Amul brand of ice-creams.
After wooing the masses with its economy range, it has a new cooling strategy this summer and aims to take a bigger scoop from the premium ice-cream segment. Also, it planning to flex its muscles even more and strengthen its distribution clout.
More than six months ago, Amul launched its super premium ice -creams -- Amul Utterly Delicious -- in the 100 million litres per annum organised ice -cream market.
But with Hindustan Lever's Kwality Wall's forsaking volumes for value, Amul is pitching for another head on battle with the foods and toiletries giant.
The new weapons in Amul's armoury are flavours like litchi, anjeer and cheese almonds. "With a premium product, this is like taking the battle into HLL territory," says an ice-cream maker.
It was only a couple of years ago that HLL changed its strategy mix for ice-creams. And in keeping with this strategy, it also began focusing on just the six big metros.
"With low priced competitors, it was decided that we focus on scooping value share rather than volume share," says an HLL manager.
What has this done to the market? Amul is the market leader in this frozen category with a 27 per cent share. It is followed by Kwality-Wall's at 8 per cent, Vadilal and Mother Dairy, Delhi at 7 per cent each with Dinshaw and Arun each having a 4 per cent share of the market. The rest of the cone is filled up by regional brands.
The ice-cream mix was completely different two years ago with both Amul and Kwality Wall's running almost neck-to-neck.
But, Amul's low-priced offerings were something that HLL couldn't take on for long. And a couple of years ago, HLL abandoned the masses to chase value shares in the Rs 2,000 crore (Rs 20 billion) ice-cream market.
Of this, the organised sector which is growing at 20 per cent per annum, accounts for only Rs 200 crore (Rs 2 billion).
Now, look at what the strategy change has done to ice- cream volumes for both HLL and Amul over the years. During the last five years, HLL's ice-box was filled with acquisitions.
On its ice-cream shopping spree, it picked up Kwality from the Ghais, Cadbury's Dollop's and Milk Food combined with their very own Wall's brand. Eventually, most of the brands were phased out and Kwality Wall's emerged as the mother brand.
In 1997, HLL churned out 24.60 million litres of ice-cream that resulted in sales of Rs 152.63 crore (Rs 1.526 billion). In comparison, Amul's 4 million litre ice-cream box notched up a turnover of Rs 27.40 crore (Rs 274 million). In 2001, while HLL's volumes were stagnant, its sales were marginally up at Rs 156.39 crore (Rs 1.563 billion).
In the same period, Amul's Rs 115.01 crore (Rs 1.150 billion) sales were up more than four-fold to touch 17.80 million litres.
In calendar 2002, with HLL deciding to concentrate only on the premium segment, its volumes halved to 10 million litres which resulted in sales worth only Rs 107.25 crore (Rs 1.072 billion).
Last fiscal, it sold 8.60 million litres of ice-cream and earned Rs 93 crore (Rs 930 million).During the same time Amul was selling 27 million litres with Rs 160 crore (Rs 1.60 billion) sales.
Now look at the other competitors. The National Dairy Development Board's Mother Dairy is available only in the north.
Amul entered the Delhi market last year. Vadilal is largely a Gujarat brand while the rest of the players each take a lick off the regional markets.
Or take the multinationals. Already, the $600-million Iowa-based Wells Dairy Inc-owned Blue Bunny ice-cream launched early this millennium has melted. Distributed and marketed in India by Sno Shack Frozen Foods Pvt Ltd, it pulled out citing reasons like high excise structure and low volumes.
Even the Allied Domecq-promoted Baskin Robbins has been in a restructuring mode for the past five years. First it shrunk the size of its outlets, then it slashed prices and finally halved its network. Today a Baskin Robbins outlet has become a rarity.
No wonder then, with such casualties Amul is going all out to grab the market. Although Amul is known for its lacklustre supplies, it is seeking more visibility.
"Now that Amul has achieved critical mass and emerged as a market leader, we are now embarking on increasing consumption," says R S Sodhi, general manager GCMMF.
He knows there is enough scope for that even though Indians aren't eating that much ice-cream. "Price has been the main hindrance," says a multinational player.
The per capita consumption of ice-creams in India is a paltry 250 ml per annum while the average global consumption is 2 litres. Even countries like Sri Lanka and Pakistan consume much more than India.
That's why, like Kwality Wall's, Amul too wants to take its frozen and ambient platter on the road through push carts and smaller outlets. It plans to supply freezers to bakeries and chemists to mom-and-pop shops and even STD booths.
At the same time, GCMMF is investing around Rs 120 crore (Rs 1.20 billion) over the next two years to expand capacity from 1.1 million litres a day to 1.8 million a day.
To build a national presence, GCMMF has bought an ice-cream manufacturing unit in Nagpur. By installing a dairy unit on the premises, it plans to extend its milk supply to states like Maharashtra, Rajasthan and Madhya Pradesh.
Then, with the NDDB entering into joint ventures with state co-operatives to market their milk and milk products, GCMMF too is doing the same.
There are also new offerings. In the last one year, it introduced the largest volume cone in the country. There's Santra mantra, an orange ice-cream coupled with other low fat and vitamin-packed offerings for children. All this is likely to push up volumes to 34 million litres with value sales almost doubling.
Even HLL has been trying hard to create excitement around its brands. Its Kwality Wall's Max, for children, was relaunched with offerings, like Rainbow and Twister, supported by a new look Max lion.
The last festive season, it introduced Vanilla Surprise to distinguish from the low-priced commodity vanilla products, and a range of new sundaes.
All these offering are no doubt welcome in the sweltering heat. But as a marketing consultant put it: "With everyone on a health binge, it would be challenging for players to increase consumption."
Powered by