The currency ban has changed the lives of the people facilitating this move across India.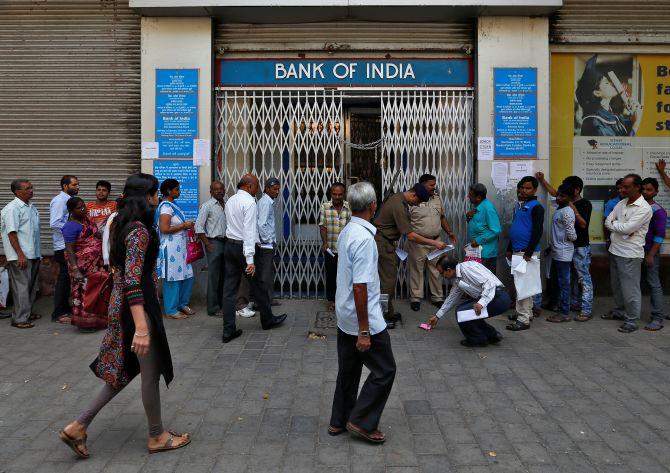 'Initially, crowd management was a big challenge': Bank manager
R Krishna Das reports from Raipur.
On the evening of November 8, Sunil Agrawal was returning from the circle office of the Punjab National Bank in Raipur, Chhattisgarh, when he received a phone call.
On the other line was a relative on holiday who had been rendered penniless after the banning of Rs 500 and Rs 1,000 notes.
"I immediately sensed that everyone would be facing a similar situation," says Agrawal, assistant general manager at PNB's main branch in Raipur. He called the cashier and enquired about the cash that was available in small denominations.
On the morning of November 10, Agrawal left home earlier than usual.
In his mind, he was already preparing for the scores of people who would visit the bank that day to exchange their old notes.
Upon reaching his office, Agrawal called for a meeting with his staff.
"I told them that they must deal with customers keeping themselves in their place," he says.
Acting on his advice, the staff at this PNB branch ensured that all operations were handled smoothly.
So seamless were their dealings with the customers that they managed to restore normalcy at the branch within a week.
Agrawal himself handled a few counters when required.
The longer than usual work hours forced him to order food from a nearby restaurant for the next two days.
"Initially, crowd management was a big challenge for us," recalls Agrawal. "A lot of people just turned up to ask about something or the other."
The situation, according to him, was brought under control within three days.
"Only a few branches were crowded after the first three days. In fact, some media reports created a lot of chaos," he says.
For the last few days, most of us haven't been able to go home: Cash van driver
Virendra Singh Rawat reports from Lucknow.
Ever since the demonetisation of high-value currency notes was announced, Pratap Singh has been a busy man.
As against the 250 km he drives on most days, Singh has been clocking more than 700 km every day for the last week, scrambling to replenish ATMs that run out of cash.
In addition to driving around Lucknow, Singh has also been delivering cash to districts such as Sitapur, Basti and Balrampur, which are located not far from the city.
The logistics company Singh works for operates 150 such cash vans.
"Usually, a driver works for eight to nine hours. For the last few days, though, most of us haven't even been able to go home. The demand for cash is so high," says Singh.
The cash crunch has meant that drivers like Singh are now ferrying cash even at night, something that they don't do during the normal course.
"Sometimes, we have to take a detour and travel about 200 km to deliver cash. The situation is that dire," rues Singh.
So much so that his family has had to make frantic calls to his employers -- since Singh doesn't take calls while driving -- to know about his well-being in the last few days.
In Singh's case, his employers have been appreciative of his efforts. "I've been getting refreshments and the company has also ensured that I'm given decent accommodation to stay the night while on the move," he says.
Singh expects the situation to remain the same over the next couple of weeks.
"Hopefully, it will start to ease after that."
There aren't too many takers yet, but young students prefer to pay via the wallet: Tea-stall owner
Manavi Kapur reports from New Delhi.
In the bustling market at Sector 9, R K Puram, residents scramble around to find an ATM to withdraw cash.
Greengrocers vendors expectantly look at passersby, hoping they have enough cash to buy their daily supplies.
Business has slowed down since the currency ban, especially once people run out of a limited supply of low denomination notes.
But Ram Pravesh, or Monu, is not worried. Sporting a Quick Response code for Paytm, a digital wallet, on the display window of his Sugreev Tea Shop, Pravesh has been quick to accept and adapt to change.
"The team from Paytm visited me a couple of weeks ago, but I was not interested at the time. Luckily, I kept the business card and called them as soon as the currency ban was introduced," he says.
Looking perplexed and excited in equal measures, Pravesh still marvels at the fame his shop has attracted in the last 10 days.
He looks at the two men sipping cups of tea at the stall -- regular customers going by the camaraderie they share -- before he answers my questions.
"There aren't too many takers yet, but young students prefer to pay via the wallet rather than cash."
While he says it's too early to tell if business has improved, a simple QR code is attracting more people to his stall, if not for the tea, then out of sheer curiosity.
I constantly stand outside the ATM without lunch or dinner: ATM guard
Namrata Acharya reports from Kolkata.
Earlier this week, at around 2 am, a small group of men got into a heated argument with the guards manning an ATM in the Dalhousie area of Kolkata. Their cause of frustration?
The ATM, belonging to a public sector bank, had apparently run out of money. Soon, the crowd threatened to turn violent.
Fearing for their lives, the guards hurriedly pulled down the shutters and took refuge inside. Their woes, however, did not end there.
The men kept banging at the gates of the bank for the next one hour.
"Earlier, the ATM was open the whole night but after that incident, we make sure we shut it down at 9 pm," says one of the guards posted at the ATM.
The government's demonetisation drive has clearly left ATM guards in a sweat -- for most, managing the crowds has been a terrible hassle.
"Every day, for 12 hours -- from 10 am to 10 pm -- I constantly stand outside the ATM, without having lunch or dinner," says Uttam Kumar Dey, a guard at a private sector bank in another part of Kolkata.
"Customers, on the other hand, are taking out all their anger on us. We've also had to call the police a few times."
Apart from dealing with public fury, guards have had to work ridiculously long hours for the last one week.
"We take turns to go home. If I go home today, then it will be my colleague's turn tomorrow," explains Dey.
While putting in the extra hours is not a problem for Kolkata'; security guards, they only hope that they would be paid extra for it too.
IMAGE: The queue outside a bank in Mumbai. Photograph: Saahil Salvi