9 days after Demonetisation.
Rediff.com's Prasanna D Zore catches up with some queue seekers to gauge their reactions.
Most people in the queues are unaware of the new rule, slashing the exchange limit for Rs 500/Rs 1,000 notes from Rs 4,500 to Rs 2,000 from Friday, November 18.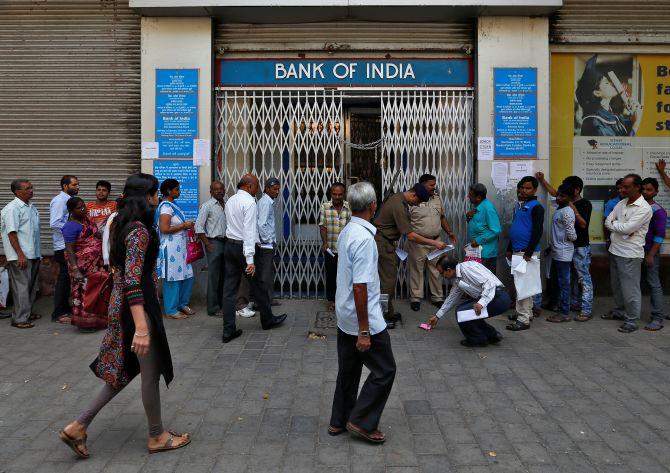 IMAGE: People queue up at a Mumbai bank to deposit/exchange/withdraw money.
Nine days after the late night prime ministerial broadcast on November 8, the queues outside banks are still serpentine.
And no, Ramdevji, the Opposition parties have not hired these Mumbaikars to queue up and give the government a bad name!
Photograph: Danish Siddiqui/Reuters
'What will we eat if we are allowed to exchange only Rs 2,000?'
Dhirendra works at a construction company. He says he gets a monthly salary, but doesn't deposit the money in his bank account on a regular basis.
On Thursday, November 17, when Dhirendra went to deposit his child's school fees at the Axis Bank branch in Mumbai's Mahim area, a bank official refused to accept the fees.
"They said they would only accept new notes," says Dhirendra.
"Aise toh hamare ghar ka kharcha nahi chalega (This way we won't be able to manage our household expenses)," he complains.
"What will we eat if we are allowed to exchange only Rs 2,000?" asks Dhirendra, whose household is mostly run on cash. ***
'Jewellers have become a bad word now'
Dharmendra Soni and Rakesh Soni say their business has been in the dumps after Prime Minister Modi demonetised Rs 500 and Rs 1,000 notes.
"We used to buy, sell and make jewellery," they say. "Ab kuch nahi hai, jo bhi tha woh sab badal chukka hai (We don't have any business now)," says Dharmendra.

"You go to any bank," he says a day before the government's new dikat comes into force, "and they are not exchanging more than Rs 2,000 worth of old notes."

"Jewellers have become a bad word now. They have become aatankwadis (terrorists)," the jeweller says woefully, when asked how the jewellery trade is currently perceived by the public.

"Doctors and lawyers, who charge more than Rs 600 as their consulting fees, are not looked at the same way as we jewellers are," his elder brother Rakesh adds.
Dharmendra also makes the point that the current environment in the country is not conducive to expressing dissent.

"If we speak against the government, we become anti-nationals. It is better to keep quiet than speak out," he says.

Rakesh Soni supports what the prime minister has ordered, but adds in a familiar refrain heard in many parts of India: "Why can't you act against the big people (who hoard black money)?

His daughter's engagement was slated for the next few days and the money he has saved for the occasion was all in currency that is no longer legal tender.

"My daughter told me not to worry about her engagement," he says, "but asked me to be careful while depositing the money, lest somebody questions the source of the income."

***
'Business is down to Rs 1,000'
Anuj Kumar Patwa laments the fact that his business has been affected because of the currency ban.
Patwa, who withdrew Rs 4,000 from his bank on November 9, has no idea that from November 18, account holders would only be permitted to withdraw Rs 2,000 instead of Rs 4,500 from the bank against their old Rs 500 and Rs 1,000 notes.
"I don't have enough business these days and as a result I don't have enough change when customers want to buy things and pay with the new Rs 2,000 note," he says.
He is also clueless about the government's firman that anyone wanting to deposit/exchange Rs 500/Rs 1,000 notes would have their index finger dabbed with indelible ink.
"The day I stood in queue for 4 to 5 hours, my earnings for that day dropped from Rs 2,000 to Rs 3,000 to Rs 1,000."

***
'My grandmother-in-law is 93. She can't come to deposit money'
Misha is at a Bank of India branch to deposit Rs 40,000 in her grandmother-in-law's account.
She tells the bank official that her grandmother-in-law, 93, is in no condition to personally deposit the money at the bank.

"Get her authority letter and you will be allowed to deposit the money," advises the bank officer.

Misha says she will either get an authority letter from her grandmother-in-law or ask her husband, who is the second account holder to deposit the money on Saturday.

***
'I have full faith in my prime minister'
Shilpa Hiwale, standing in a long queue to deposit money at 10.30 am, supports the prime minister despite the personal inconvenience.

"I have full faith in my prime minister," she says.

Most of her transactions, she says, will soon become cashless.
"Our milkman is accepting cheque payment, which is a wow moment for us," she adds.

"Slowly, but surely, India will move towards a low-cash economy," she says, adding, "The problems we face are temporary."