HSBC India's website sums up the bank's business strategy quite well: "It is all about delivering sophisticated solutions to complex financial problems." Of late, however, the bank, whose origins in India date back to 1853, is grappling with problems of a different kind.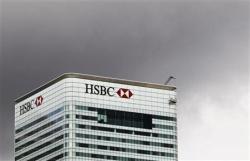 The bank, which has publicly announced a target of $1 billion (around Rs 5,400 crore today) in annual profits from India in the medium term, has been hitting the headlines for all the wrong reasons.

It has been accused of various things - working hand-in-glove with industrialists in stashing money overseas; "erroneously" putting the name of India's richest industrialist in its list of beneficiary account holders in Switzerland; mis-selling insurance and mutual fund products and more.

Most charges have not been proved as yet and the bank's management in India has denied at least some of these, but the crisis of confidence is severe.

The foreign lender is already under lens in the US following allegations that it violated anti-money laundering rules and is likely to be fined more than $1.5 billion besides facing criminal charges.

The India operations have not been able to escape that storm. In July this year, a probe by the US Senate's permanent sub-committee on investigations found HSBC's anti-money-laundering compliance department, which included employees in India, was staffed inadequately.

Besides, deficiencies were found in the quality of the work done by HSBC's "offshore reviewers in India" used for clearing a major backlog of suspected transaction alerts at the bank.

More than a third of the alerts already resolved by the Indian reviewers and others "had to be redone" after an independent assessment by OCC (the US Office of the Comptroller of the Currency, which is the bank's primary federal regulator in the country).

The probe further found an OCC visit to India in 2007 had revealed "weak monitoring procedures" in the bank's internal control systems.

At a hearing before the Senate sub-committee on the matter in Washington, HSBC apologised for its mistakes and gave its "absolute commitment" to fix the problems.

A probe by RBI has not been able to validate this claim so far.

However, the banking regulator had penalised HSBC in April 2011 for mis-selling derivative products to its customers. The foreign lender and a few other banks had failed to carry out RBI's instructions on due diligence regarding the suitability of products and sale of derivatives to users not having the right risk management policies.

A recent media report also said the bank has stopped selling insurance and mutual fund products in India following claims of mis-selling
and certain sharp practices. HSBC has denied the report.
Earlier this year, the bank had cut jobs across geographies including India to reduce cost.
The biggest damage was, however, done when activist-turned-politician Arvind Kejriwal blatantly accused HSBC of helping several industrialists conceal their "black money" in the bank's Geneva branch.
"Perhaps it is easier to open a Swiss bank account than it is to open an account in SBI (State Bank of India - the largest commercial bank in the country). You just need to contact HSBC in India," Kejriwal said.
He alleged that the foreign lender sends a representative to collect the money from anyone seeking their help in hiding black money in overseas bank accounts. The representative will visit his house, get forms filled, take the money in cash, and open a bank account in Geneva or Dubai.
The client does not need to travel abroad to operate the account. A phone call to the bank is enough to deposit or withdraw money as the lender provides doorstep service to collect or deliver cash.
HSBC India has declined to comment on "the specific details of the allegations", but maintained that under its new senior global leadership team, it is taking steps to strengthen compliance, risk management and culture.
In January 2012, the bank had to apologise to Mukesh Ambani for erroneously putting his name in its list of beneficiary account holders in Switzerland.
On Saturday, the government said it was taking actions against all individuals named in a list pertaining to black money, given to it by France in June 2011. It did not confirm if it was the same list mentioned by Kejriwal and declined to name the individuals mentioned in the list.
HSBC's financial performance in India has, however, been on course. The bank has been able to improve its profit growth in India in 2011-12 (30 per cent year-on-year rise in net profit) and has devised a strategy to shed dependence on income from functions such as treasury, foreign exchange and investment banking, and increase retail lending.
Retail banking operation is also on its way to profitability after suffering two years of losses because of rising bad loans.
Currently, the bank is awaiting regulatory approvals on its proposed acquisition of Royal Bank of Scotland's retail and commercial banking businesses in India.
The approvals have been pending for more than two years now and the bank insists that the unprecedented nature of the deal is causing the delay.
HSBC, which has the second largest number of branches in the country among foreign banks, has not been permitted to open a new branch since 2010. It currently has 50 branches in India.