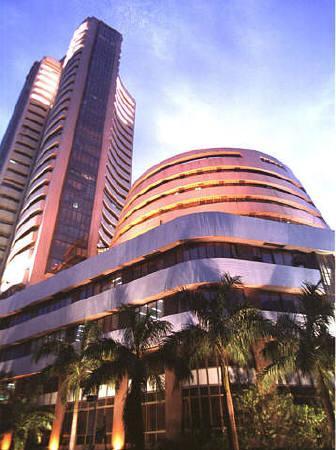 Samvat 2068 ended on a cautious note as the BSE benchmark Sensex today lost 13.3 points to close at 18,670.34 on selling over sticky retail-level inflation, weak industrial output and record-high trade deficit.
The Sensex, which had lost 219 points in the past two days, resumed a tad higher but moved in a narrow range of over 140 points before concluding 13.34 points lower at 18,670.34 -- extending the string of losses to three straight days.
In the 30-share Sensex, 19 stocks declined led by two most influential stocks, ITC and RIL that fell over 1 per cent each. Tata Steel, which fell 1.93 per cent, was the worst
performer among the Sensex constituents. The falling trend was cushioned to some extent as HDFC Bank, SBI, TCS and Bharti Airtel logged 0.8-1.4 per cent gains.
Brokers said investors were seen adjusting their portfolios ahead of a special 'Muhurat' trading on Diwali tomorrow, followed by a holiday on Wednesday.
Meanwhile, non-index entity United Spirits today surged by 34.93 per cent to Rs 1,834.60 after Diageo agreed to buy a controlling stake last week.
The broad-based National Stock Exchange index Nifty eased by 2.55 points, or 0.04 per cent to close at 5,683.70.
Consumer durable, banking and realty shares attracted buying while metal and capital goods stocks ended lower.
The sentiment remained bearish on the last day of Samvat 2068 on an unexpected 2.5 per cent contraction in September industrial output, marginally high consumer price index at 9.75 per cent and trade deficit widening to an all-time high of USD 20.96 billion as October exports fell to $23.2 billion.
A mixed trend in Asian region and lower opening in Europe on earning concerns further soured the market sentiment.
There will be a special 75-minute 'Muhurat' trading on Diwali between 1545 hrs and 1700 hrs to start Samvat 2069.
The Sensex has risen by around 8.2 per cent in Samvat 2068. Trading activity was also tepid today with data showing FIIs sold shares worth a net Rs 204.24 crore last Friday.
"Indices opened on a flat note and made initial highs. Soon afterwards, the indices was seen drifting to lower territory and selling pressure increased after IIP data announcement," said Nidhi Sarswat, Senior Research Analyst, Bonanza Portfolio.
Globally, Asian stocks ended mixed with downward bias after reports said Japan's economy shrank at the fastest pace since last year's earthquake, overshadowing an acceleration in China's exports.
Key indices from Japan, Singapore, South Korea and Taiwan ended with losses while those from China and Hong Kong closed with gains.
In Europe, France's CAC was quoting lower by 0.14 per cent in afternoon trade while Germany's DAX and the UK's FTSE were up 0.19-0.22 per cent.
Back home, major losers from the Sensex pack included Tata Steel (1.72 pc), Hero MotoCorp (1.67 pc), ITC (1.56 pc), Tata Power (1.43 pc) and Jindal Steel (0.95 pc).
However, Bharti Airtel rose by 1.63 per cent, SBI by 1.59 per cent, TCS by 0.66 per cent and Infosys by 0.48 per cent.
Among sectoral indices, BSE-Metal declined by 0.70 per cent and BSE-CG by 0.67 per cent while BSE-CD rose by 1.13 per cent, BSE-Bankex by 0.94 per cent and BSE-Realty by 0.87 per cent.
The market breadth remained negative as 1,461 counters closed lower while 1,334 scrips ended higher. The total turnover shot up to Rs 3,732.07 crore from Rs 2,606.97 crore last Friday.
"In the coming days, Nifty supports come around 5620. On the other hand, a upside break above 5820 (futures) would result in resumption of up rally," said Milan Bavishi, Head Research, Inventure Growth & Securities.