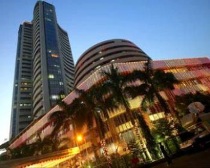 Markets ended a firm session of trade near the day's high with buying seen in capital goods, power and banking shares.

The Sensex, after touching a high of 17,448 ended up 439 points at 17,430.

Nifty ended up 130 points at 5,279.

In Asia, shares jumped and the euro surged more than 1% after European leaders agreed that euro zone banks could be recapitalised without adding to government debt, soothing fears over growing credit strains in Italy and Spain.

Nikkei added 1.5% to 9,007. Hang Seng and Shanghai Composite 1-2% each.

"This EU summit was very keenly watched by the investors as the European crisis has been a long hang over on the markets and on the investor sentiments as well.

So favourable announcements from them will boost the sentiments globally including India," said A K Prabhakar, Senior Vice President Equity Research, Anand Rathi.

Meanwhile, Morgan Stanley has upgraded Indian stocks to "equalweight" after being "underweight" since the first quarter of 2011, saying India is now trading at a price to book multiple of 2.1x, close to the trough valuations of 2.0x in the 2002 and 2008 cycles.

In other news, the Prime Minister's Office clarified that the GAAR guidelines that have been put up on the government website from the official level of the Finance Ministry and shared with some stakeholders are only draft guidelines.

BSE capital goods index surged 3.6% to 10,025. Power index followed with gains of 3.5% at 1,919.

Power stocks rose on hopes that lower international coal prices
would increase profts.
JSW Energy, CESC, and NTPC added 1-3% each.
Tata Power added 6% to Rs 105.
Metal index gained as global commodity prices rose following steps taken the euro zone leaders to stabilise the economy. BSE metal index added 3.5% to 10,785.
Among individual metals shares Hindalco gained 4% at Rs 120 after reporting a 38% growth in net profit at Rs 3,397.
Sterlite rose 5% at Rs 103 following news that earlier this week the shareholders have approved the scheme of amalgamation and arrangement with valid voting of 89.75% representing 92% votes in value voted in favor of the resolution approving the scheme.
ITC hit a fresh 52-week high at Rs 260 and was trading up 3% at Rs 259.
Reliance has bought back 3 crore shares for Rs 2144.73 crore till 22 June 2012. The stock added 2.5% to Rs 737.
Cement shares gained ahead of the monthly sales figures which would start trickling in from July 1, 2012.
This comes after the Competition Commission of India (CCI) levied a penalty of over Rs 6000 crore on 11 cement companies due to violation of the provisions of the Competition Act, 2002, which deals with anti-competitive agreements including cartels, last week.
ACC added 3.7% to 1,267. Ambuja Cements added 0.5% to Rs 174.
Among other stocks, Cairn India tanked 6% at Rs 308 in otherwise firm market in the early trades on back of huge block deals on the BSE and NSE.
L&T added 4% at Rs 1,397 on news that L&T Construction has secured orders valued Rs 1,002 Cr.
BSE market breadth is positive. Out of 2,982 shares traded, 1,864 shares have advanced and 988 shares have declined.