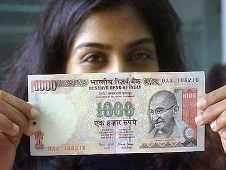 After sinking below 56-mark in early trade on heavy dollar demand, the rupee on Thursday erased some losses but still ended 13 paise lower at fresh six-month low of 55.59 amid signs of capital inflows in battered equities and exporters selling the American currency to book profits.

The rupee resumed sharply lower at 55.85 a dollar from yesterday close of 55.46 on the Interbank Foreign Exchange market as the American unit gained strength on reports that US Federal Reserve Chairman Ben Bernanke has hinted at scaling down the monetary stimulus.

As dollar demand rose, the rupee dropped further to eight-month low of 56.01 before ending at 55.59, a loss of 13 paise, or 0.23 per cent.

This is rupee's lowest closing since 55.73 on November 26, 2012.

Even as rupee fell below 56-level against dollar intra-day, Chief Economic Adviser in the Finance Ministry Raghuram Rajan said, there is no need to panic, and RBI takes decisions on whether to intervene in
forex markets or not to stabilise the local currency.
"There were no signs of RBI intervention on Thursday," said Ashtosh Raina, Head of Foreign Exchange Trading, HDFC Bank.
Meanwhile, domestic stocks were pounded with BSE benchmark Sensex on Wednesday dropping by 387.91 points to close at nearly two-week low 19,674.33.
However, FIIs pumped in over Rs 300 crore (Rs 3 billion) in Indian equities on Thursday as per provisional BSE data.
In London, the dollar and the euro fell by more than two per cent against the yen on Thursday, as investors opted for safe-haven currencies on increasing prospects of the US Federal Reserve paring back its economic stimulus programme.
"As Ben Bernanke said that they might consider cutting down the pace of ongoing QE, we saw Dollar index touching 84.50 levels, and all the other currencies fell against the dollar.
"After hitting the key level of 56.00 against the US dollar, the rupee was seen appreciating due to selling pressure in the market," said Abhishek Goenka, Founder & CEO, India Forex Advisors.