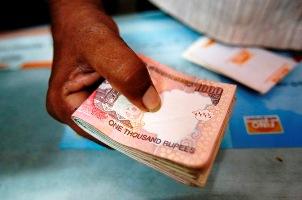 The rupee weakened for a second consecutive session on Wednesday, weighed down by large demand for dollars from importers and after foreign investors turned sellers of domestic shares for the first time in about a month.

Foreign investors sold Indian cash shares worth a net 1.04 billion rupees ($17.8 million) on Tuesday. Although the sales were modest, it was their first sales since April 16, provisional data from the NSE and Securities and Exchange Board of India showed.

Traders expect the rupee to remain in a near-term consolidation phase after the currency hit an 11-month high of 58.32 per dollar on Monday.

The rupee has gained around 2 per cent so far this
year, with a rally sparked since the start of February on expectations that the Bharatiya Janata Party and its prime ministerial candidate Narendra Modi would win the country's elections.
"I think rupee should be range-bound with a little bias towards weakness," said Uday Bhatt, a foreign exchange dealer with UCO Bank.
The partially convertible rupee closed at 58.7750/7850 per dollar versus 58.63/64 on Tuesday.
Demand for dollars came mainly from importers as well as from state-owned banks, which dealers attributed to defence-related purchases.
The rupee was also weighed down as shares edged lower on profit-taking, snapping a four-session winning streak.
In the offshore non-deliverable forwards PNDF, the one-month contract was at 59.08, while the three-month was at 59.71.