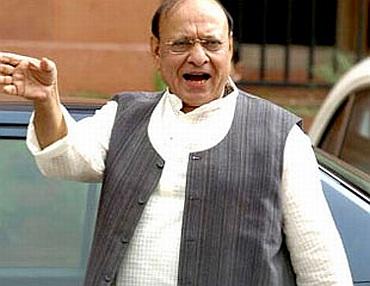 Leader of the Opposition in the Gujarat assembly, Shankarsinh Waghela on Wednesday asked Prime Minister elect Narendra Modi to build a Ram temple at Ayodhya within the constitutional framework now that the Bharatiya Janata Party has got an absolute majority, in a speech that was blended with sarcasm and praise.
"When (Lal Krishna) Advaniji took out the Rath Yatra, the BJP was at the climax (sic) in terms of votes but (Atal Bihari) Vaypayee had to make compromises because of the National Democratic Alliance. Now, the BJP has a majority. If the NDA comes along, it is good. If not, build a Ram temple in Ayodhya within the Constitutional framework," Waghela mocked at a special session of the legislative assembly called to bid farewell to Modi.
Waghela, who had roots in the Rashtriya Swayamsevak Sangh and the BJP, also spoke of the BJP's promise of enforcing a Uniform Civil Code and rehabilitation of Kashmiri Pandits to the Kashmir valley.
Waghela had parted ways with the BJP in 1996 to form his Rashtriya Janata Party and became chief minister before joining the Congress.
While touching upon the contentious issues, in his sarcasm-laced speech, Waghela also referred to Godhra, a sore point in Modi's otherwise remarkable political career, where the burning of Karsevaks in Sabarmati Express train triggered communal carnage in Gujarat in 2002.
"Godhra has played important role in the lives of two people from Gujarat who became prime ministers of India. Morarji Desai was deputy collector of Godhra when riots broke out in 1969 and he was accused of bias (in handling it). After that he left the job and joined politics and later became prime minister," Waghela said.
Then turning to Modi, Waghela said, "You spent life as a pracharak in Godhra and Vadodara and I would not wish to go into what happened in 2002."
"During the campaign many things were promised like giving jobs to youth and controlling inflation. Once you take oath, pressure will come on you to fulfill all these promises.
"You have said you will bring down inflation by 25 per cent over the next six months. We will not ask you any questions till you complete one year (in office). But we will seek answers after one year about inflation," he said.
On the issue of black money, Waghela suggested constituting a committee under yoga guru Ramdev to bring it back. Ramdev, facing several criminal cases relating to alleged financial irregularities by his firms, had strongly backed the BJP during the election campaign.
Waghela also asked Modi to resolve all pending issues Gujarat had with the United Progressive Alliance government at the Centre. He listed the issues like delay in construction of gates on the Narmada dam, gas prices and coal linkages for power plants in the state over which the Gujarat government under Modi was critical of the Centre.
Waghela, who had cordial relations with Modi before the two parted ways, congratulated the PM designate on his electoral success. He presented a shawl to Modi and both were seen exchanging pleasantries in the well of the House.

Image: Leader of the Opposition in Gujarat assembly Shankarsinh Waghela