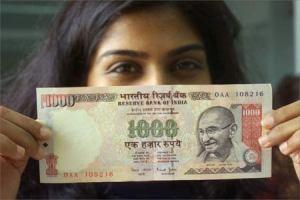 The rupee rose on Tuesday to its strongest close against the dollar in nearly 10 months as shares surged to record highs after exit polls showed opposition Bharatiya Janata Party (BJP) and its allies clinching a majority in the country's elections.

Markets have been already pricing in a win by the BJP, hoping that the coalition led by Narendra Modi would revive an economy growing at its slowest pace in a decade and attract more foreign investment.

However, broader gains were capped as the Reserve Bank of India remained an active buyer of dollars to curb the rupee's rise, according to traders.

J.P.Morgan estimates that RBI interventions since February have totalled nearly $20 billion, with an estimated $4.1 billion in dollar purchases since the start of May, according to a note on Tuesday.

"Markets have reacted positively to exit poll results, and in my opinion, unless there is a shock in the final results, the equity rally may continue, but INR may not gain substantially immediately," said Paresh
Nayar, head of fixed income and foreign exchange trading at First Rand Bank.
"RBI may remain active and if sentiment still remains positive INR gain could happen at a slow pace," he added.
The partially convertible rupee closed at 59.66/67 per dollar, its strongest close since July 29, after ending at 60.05/06 on Monday.
The rupee's gains came after the benchmark BSE Sensex rose on Tuesday to a third consecutive record high, surpassing the key psychological level of 24,000 points as stocks tied to the domestic economy surged.
Still, exit poll results have proved unreliable in the past. India is due to announce election results on Friday.
The rupee's rise was curbed after the RBI was spotted buying dollars via state-run banks at around 59.60 levels. The unit hit a near 10-month high of 59.51 on Monday.
The USD/INR pair's next major support is seen at 59.45, or its 61.8 percent Fibonacci retracement of the pair's rise from 53.59 in late February 2013 to a record high of 68.85 in August last year.
In the offshore non-deliverable forwards, the one-month contract was at 59.97, while the three-month was at 60.68.