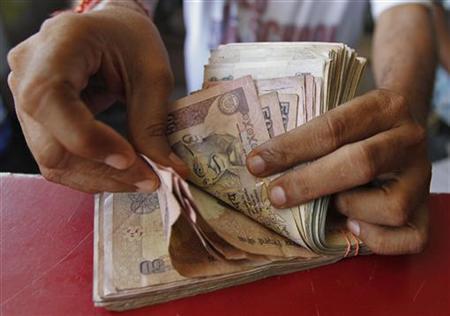 In line with equity market, the rupee today snapped its last 4-day losing streak against the American currency and recovered 12 paise to close at 67.15 per dollar on hopes of foreign capital inflows.
The rupee opened slightly higher at Rs 67.25 per dollar against the Tuesday's closing level of Rs 67.27 at the Interbank Foreign Exchange market and hovered in a range of 67.06 and 67.25 before ending at 67.15, showing a gain of 12 paise or 0.18 per cent.
The rupee had dropped by 62 paise or 0.93 per cent in previous four trading days.
Meanwhile, the dollar index was down by 0.15 per cent against the basket of six global currencies in the late trade.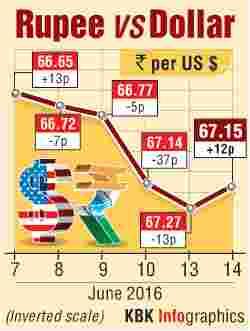 The RBI fixed the reference rate for the dollar at 67.1596 and euro at 75.2859.
In cross-currency trades, the rupee fell against the pound sterling to close at 95.31 from 95.22 yesterday while moved up further against the euro to 75.40 from 75.50.
The domestic currency also recouped against the Japanese yen to 63.19 per 100 yen from 63.49.
Overseas, the US dollar traded mostly higher against its major rivals in early Asian trade, while the euro nursed losses as the benchmark German government bond yield turned negative for the first time due to worries that Britain might vote next week to leave the European Union, while investors stayed cautious ahead of a Federal Reserve's policy decision later in the global day.