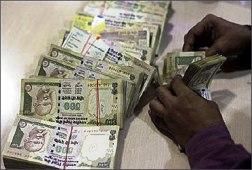 Falling for the second straight day, rupee on Wednesday weakened by eight paise to close at 54.69 against the US dollar amid interest rate cut hopes dashed by RBI Governor D Subbarao's view that inflation is 'still high'.

Weakness in local stocks and sustained demand of the US currency from importers pulled the rupee down while capital inflows worth Rs 1,029.50 crore (Rs 10.29 billion) from foreign institutional investors in stock markets helped cap the currency's losses to an extent, said dealers.

At Interbank Foreign Exchange market, the rupee resumed lower at 54.77 a dollar from Tuesday's close of 54.61.

A sluggish dollar overseas was seen supporting attempts by the rupee to script a recovery.

However, the domestic currency later moved erratically in a range of 54.68 and 54.88 amid hopes of interest rate cut dimming after Reserve Bank of India Governor's comments, treasury officials said.

The rupee finally settled at 54.69, a fall of eight paise or 0.15 per cent. Yesterday, it had declined by 12 paise.

Pramit Brahmbhatt, CEO, Alpari Financial Services (India) said: Rupee extended its weakness on weak global cues and fall in domestic equity markets.

Bonds continue to trade lower on the RBI Governor's comment about inflation remaining high. . .

If the same stance is adopted by RBI in its upcoming policy meet, then rupee shall fall to the 55.60
levels in no time," he added.
The Indian stock market benchmark Sensex today tumbled by 169.19 points, or 0.85 per cent after RBI Governor D Subbarao yesterday evening said inflation is "still high".
WPI inflation in December had fallen to a three-year low, fanning hopes of a rate cut soon.
The dollar index, a gauge of six major global rivals, was down by 0.18 per cent while New York crude oil was trading near $93.50 a barrel in Europe on Wednesday.
". . .Subbarao's statement that inflation is still not in a comfort zone is being viewed as a signal that the stock markets cannot take the rate cut for granted on January 29," said Abhishek Goenka, Founder and CEO, India Forex Advisors.
Meanwhile, the premium for the forward dollar improved further on sustained payments from banks and corporates.
The benchmark six-month forward dollar premium payable in June edged up to 167-1/2-169 paise from overnight close of 166-1/2-168 paise.
Far-forward contracts maturing in December also rose to 326-328 paise from 320-322 paise.
The RBI has fixed the reference rate for the US dollar at 54.8260 and for euro at 72.8285.
The rupee held stable against the pound sterling to end at its previous closing level of 87.70 while remaining negative against the Japanese yen at 62.04 per 100 yen from 61.59.
The rupee, however, recovered slightly against the euro to 72.80 from last close of 72.89.