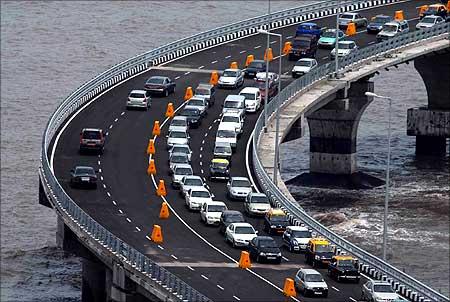 Industry experts on Friday called upon the new BJP-led NDA government to focus on attracting investments in key sectors, especially the infra space, to revive growth and investor confidence.
KPMG India Deputy Chief Executive Dinesh Kanabar said irrespective of who becomes the next Finance Minister, the one thing that is clear is the country needs to get back to the path of rapid development if it has to emerge as an economic powerhouse and be spoken of in the same breath as China.
"The key to the revival of economic growth is the renewed investment, particularly in the infrastructure space. The FDI took a back seat thanks to the flip-flop on economic policies, clogging up of the approval process for large projects and confrontational tax policies. The first task of the new government would be to deal with these three issues.
"We cannot have ambivalent policies in retail, an ambiguous stand on Mauritius tax treaty, a Ministry which sits on large projects for environment clearance and imposition of retrospective taxation," Kanabar said.
Leading boutique investment banker Singhi Advisors, which focuses on stressed asset sales, said the BJP-led Government should revive PPPs in the roads sector.
"The Modi Government must take a firm decision on many areas where investment climate has chocked up. We expect the new Government to initiate reforms in sectors like roads and power and attract investments in this (infra) space.
"As the financial viability of most infrastructure projects is under threat, and capital becomes too costly, there is a huge demand for cheap foreign capital or in-bound
M&As, to meet the mismatch between the cost of capital and return on capital. That would lead to many domestic companies being compelled to take FDI route or sell out once the projects reach certain maturity," Mahesh Singhi, Managing Director of Singhi Advisors, told PTI.
He said he expects the new Government to encourage larger flow of FDI and liberalise policies, including certain relaxations in NHAI policy towards M&As.
Vishwas Udgirkar, Senior Director at Deloitte India, said he wants the NDA administration to work urgently on the infrastructure front.
"We expect the new government will swiftly try to address the impediments to the infrastructure growth story. Priority should be given to operationalise previous good policies and the Government must endeavour to give the right message to stakeholders," he said.
He said an impetus needs to be given to key sectors such as Railways and ports that have been lagging behind as well as to segments like roads and highways where growth has significantly slowed down.
Common issues plaguing these sectors like land acquisition, environment clearances, financing mechanisms and lack of FDI need to be addressed, Udgirkar added.