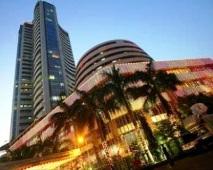 Markets mended Tuesday's trading session on a strong note with both the benchmark indices registering gains of nearly 4% each led by positive foreign flows in the Indian equity markets on the back of receding fears of a US led military strike on Syria.

The BSE benchmark index -- Sensex rallied 727 points or 3.77% to settle at 19,997 and the 50-share Nifty surged 216 points to shut shop at 5,897.

According to Mudit Goyal, Technical analyst with SMC Global, " Technically, Nifty has given the consolidation breakout during last traded week and also breached its 50EMA on daily charts which indicates that buying is more aggressive at current levels."

"On daily charts, 5730 was the crucial level for markets that was 200EMA on daily charts and got the breakout of same today. So this buying momentum can continue for coming days which suggest the upside level of 5950-6000 in coming days," adds Goyal.

The Indian rupee also strengthened in the intra-day deals rupee opened at 64.48 to a dollar in morning trade as against last weekend's level of 65.25 a dollar and in the noon deals rupee traded firm at 64.26 against the dollar, also its two-week high.

On the global front, Asian markets ended higher in trades today after the Chinese data showed that it could be emerging from the economic slowdown.

Receding fears of a possible US military strike against Syria also helped uplift investor sentiment.

Shanghai Composite closed higher by 1.15% or 25 points at 2,237, Hang Seng advanced 1% or 226 points to close at 22,976, Nikkei 225 jumped 218 points to end at 14,423, Straits times gained 22 points to shut shop at 3,109, Seoul Composite ended at 1,994, up 19 points and the Taiwan Weighted ended at 8,208 with a gain of 17 points.

European stocks were seen tracking gains in Asia with financial spreadbetters expecting Germany's DAX to open up as much as 0.5%.

Back home, the data available with the Bombay Stock Exchange (BSE) showed that the foreign institutional investors have so far pumped in Rs 2,074.65 crore in the Indian equities since past three trading sessions.

The positive flows to the Indian equities came after the United States President Barack Obama said the military strike against Syria can be put on hold if the Assad regime agrees to turns over the chemical weapons to the international community.

Meanwhile, snapping a nine-month streak of decline, domestic passenger car sales grew by 15.37% to 1,33,486 units in August this year, compared to 1,15,705 units in the same month last year.

On the macro economic front, India's trade deficit for the month of August fell to $10.91 billion in August from $12.27 billion in the previous month.

Gold imports fell sharply to $0.65 billion compared to $2.20 billion during the previous month.

In the equity markets today, Tata Motors was the top gainer among the Sensex stocks.

The stock surged 10.12% to close at Rs 350 after the company's UK arm Jaguar Land Rover recorded USA retail sales of 6,661 units in August -- the best month since 2005. In other development Tata Motors
today said it has entered the Indonesian market with the launch of three passenger vehicles.
The company's wholly-owned subsidiary PT Tata Motors Distribusi Indonesia has introduced Tata Aria, Tata Vista and Tata Safari Storme in the Indonesian market. Based on these news triggers Tata Motors today stormed into the league of companies that have market capitalisation of more than Rs one lakh crore.
Hero MotoCorp, ITC, Sesa Goa, Mahindra & Mahindra, HDFC, Hindustan Unilever, Infosys, Sun Pharma, Maruti Suzuki, Coal India, Bajaj Auto, HDFC Bank and NTPC were also among the gainers on the Sensex, up 3-7% each.
On the other hand, Dr Reddy's Labs, SBI and TCS were among the notable losers.
Buying was visible across the board. Led by gains in the auto stocks, the BSE auto index was the top gainer on the sectoral front. The BSE auto index closed higher by 6% or 623 points at 11,039.
Capital goods index also jumped 5.5% or 409 points to end at 7,852. Stocks from this space such as ABB, Larsen and Toubro (L&T), Siemens, SKF India and Crompton Greaves were up between 5-23%.
ABB zoomed 17% to Rs 560, its sharpest single day rally in past several years on back of heavy volumes on BSE.
Zurich-based ABB's group executive committee member Brice Koch is upbeat about business prospects in India.
L&T surged 7% to Rs 807 after the company said it has acquired 25% more orders and expected to maintain margins for the current fiscal.
"The current economic situation has impacted the business of the company, especially 'infrastructure'. In this backdrop of difficult economic scenario, the company has successfully acquired 25% more orders; and expected to maintain the margins for 2013-13," said A.M.Naik, chairman while answering questions raised by the shareholders in AGM.
FMCG, consumer durables, power, teck, realty, metal, IT, bankex and oil & gas indices also advanced 1-5% each.
Smart Moves
Telecom stocks such as Bharti Airtel, Reliance Communication, Idea Cellular also advanced 5-8.4% each in trades today after the Telecom Regulatory Authority of India proposed a37% reduction in base price for upcoming mobile phone spectrum auction.
The move is expected to attract the telecom companies that had kept away from the earlier spectrum auctions in key circles like Mumbai, Delhi and Karnataka, citing high base price.
Shares of multinational companies (MNC) were in limelight on the bourses after the Reserve Bank of India (RBI) changed the rules to make it easier for foreign and non- resident Indian (NRI) promoters to raise stake in listed Indian companies.
GSK Healthcare, SKF India, Alstom, Sesa Goa, Ambuja Cements and Heidelberg Cement rallied 6-12% on the Bombay Stock Exchange.
SKS Microfinance surged 13% to Rs 146 after WestBridge Ventures Il, LLC, one of the promoters of the company, propose to acquire 1.48% stake for Rs 22.40 crore from other promoter.
The broader markets also gained in trades today. The BSE mid-cap index closed higher by 1.4% or 74 points at 5,525 and the small-cap index advanced 59 points to close at 5,403.
The overall breadth was extremely positive as 1,502 stocks advanced while 829 declined.