SBI plunged over 3% after posting a 34.57% fall in net profit to Rs 2,538 crore for the quarter ended September 2016 on rise in provisions for non-performing loans.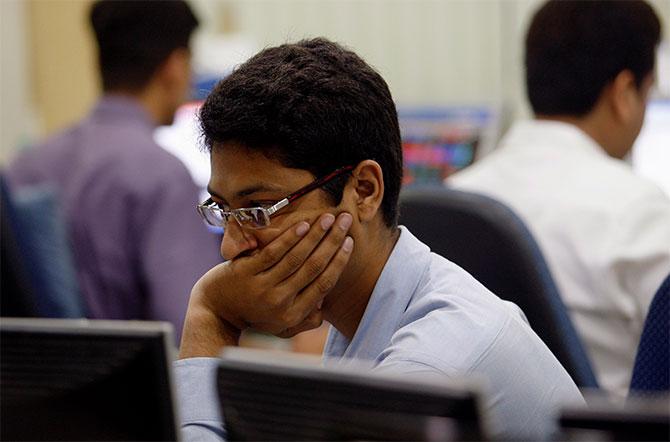 Benchmark indices slumped by almost 3% tracking weak global cues after US bond yields soared on expectations US President-elect Donald Trump's policies would stoke inflation.
Further, demonetisation move by the government dampened investor sentiment especially with fast moving consumer goods and consumer discretionary sectors to have a impact in the short term.
In an effort to curb black money and counterfeiting the government in a surprising move announced the demonetisation of Rs 500 and 1,000 currency notes with effect from midnight Tuesday.
Nimesh Shah, MD and CEO, ICICI Prudential Mutual Fund says, "The bold and transformational announcement made by the Indian Government to combat unaccounted money is a good step for the Indian economy in the long run. However, given the size of the cash economy in India, a step like demonetization could result in some short term problems but with significant long term benefits to the economy. Therefore, we believe that additional measures like monetary stimulus in the form of rate cuts and liquidity infusion in the formal system will aid the economy in handling this situation in an appropriate manner."
The S&P BSE Sensex ended down 699 points to settle at 26,819 and the Nifty50 settled 229 points lower at 8,296. The broader markets underperformed the benchmark indices significantly- BSE Midcap and Smallcap indices fell between 3%-4%. Market breadth on the BSE ended lower with 2,218 declines and 411 advances.
"Market has entered a long phase of corrective pattern trying to correct the entire rise from the March bottoms. Market hit the 50% retracement mark at 8,000 Nifty level intraday mid week but closed substantially higher. 8,000 levels in Nifty, now, therefore will act as a solid support for the market on the lower side. However a 38% retracement level which comes to 8,200 could also act as a minor support. Traders should refrain from creating long positions and Investors should stay on the side lines till a capitulation in the correction is reached," added Jimeet Modi, CEO, SAMCO Securities.
Besides, Finance Minister Arun Jaitley hinted to a probable delay in the rollout of the indirect tax regime. However, Jaitley did assert that the Union government is making all efforts to roll it out from the targeted date.
Global Markets
A searing selloff rocked Asian shares and emerging market currencies on Friday as investors feared higher US interest rates under incoming President Donald Trump will spark capital outflows from the region.
MSCI's broadest index of Asia-Pacific shares outside Japan fell 1.4% as U.S. bond yields continued to soar on views that Trump's spending plans will push up inflation, possibly triggering more aggressive rate hikes by the Federal Reserve.
Emerging markets bore the brunt of selling, with MSCI emerging market index falling 1.5% to its lowest level since July, with Indonesia and Malaysia hit the hardest in Asia.
Indonesian shares slumped 3% while the rupiah currency had fallen more than 2.5% to 4-1/2-month lows before it stabilised on the Indonesian central bank's intervention.
The Malaysian ringgit also dropped 1% to 9 1/2-month lows. Japan's Nikkei bucked the trend, rising more than 1% to 6-1/2-month highs the yen weakened against the firming dollar.
Stock Trends
BSE Consumer Durables and Realty indices slumped by almost 5% followed by counters like Auto, Banks, Metal and IT, all falling between 2%-4%.
Sun Pharmaceutical Industries rallied 3% after the pharma major's consolidated net profit more than doubles to Rs 2,235 crore for the quarter ended September 30, 2016 (Q2FY17).
Shares of Tata Consultancy Services (TCS) hit a 52-week low of Rs 2,097, down nearly 2% on the National Stock Exchange (NSE) in intra-day trade on Friday.
SBI plunged over 3% after posting a 34.57% fall in net profit to Rs 2,538 crore for the quarter ended September 2016 on rise in provisions for non-performing loans.
The Nifty bank index dropped by over 3%, after a four-session winning streak on the back of hopes that India's unexpected push to withdraw larger banknotes from circulation would lead to a surge in lenders' cash positions.
Shares of InterGlobe Aviation, Jet Airways and SpiceJet fell between 2%-5% each over media reports that said the government would impose a new levy on some domestic flights.
Indiabulls Real Estate moved higher by 6%, bouncing back 14% from intra-day low, after the company announced that the board will meet on November 24, to consider buyback of equity shares.
Bata India, Greenlam Industries, Pidilite Industries and YES Bank were among the other stocks to see a surge in volumes on BSE today.
Jain Irrigation Systems ended higher by 2% after the company reported a consolidated net profit of Rs 28 crore for the quarter ended September 30, 2016 (Q2FY17).
Photograph: Danish Siddiqui/Reuters