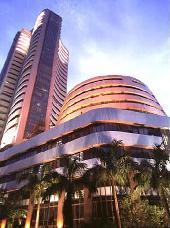 Markets posted biggest percentage gains this Tuesday with 30-share Sensex index surging over 260 points amid speculation that the US Federal Reserve will continue its accomodative monetary policy stance in the wake of sluggish growth in world's biggest economy.

Global risk-appetite was firm after Janet Yellen, the Federal Reserve's vice chair, said on Monday that US central bank's aggressive monetary stimulus is warranted given how far the economy was operating below its full potential coupled with news flow from China which maintained its economic-growth target at 7.5 percent for 2013.

Adding to the domestic investor's optimism was the policy action by the Reserve Bank of India to support growth in Asia's third-biggest economy which supported buying in banks, automobiles and real-estate sectors.

The Bombay Stock Exchange's Sensex ended higher 265.21 points or 1.4% at 19,143.17 while the National Stock Exchange's Nifty gained 85.75 points or 1.5% to end at 5,784.25.

Both the indices posted biggest gain since November 29.

Asian markets traded higher with China's Shanghai Composite Index gaining 2.3% to 2,326 , Singapore's Straits Times added 0.36% to 3,251 , Hong Kong's Hang Seng rose 0.1% to 22,560 while Japan's Nikkei gained 0.3% to 11,683.

In Europe, France's CAC rose 1% to 3,749, Germany's DAX gained 1% to 7,775 while UK's FTSE was up 0.6% to 6,385.

Back home, among sectors, real-estate, metals, IT, autos, healthcare, bankex led gains on BSE.

Among individual stocks, Tata Motors and Maruti Suzuki gained 4% and 2% respectively, ICICI Bank and SBI rose 3% and 2%, Reliance Industries added 1.5%, Jindal Steel, Sterlite & Hindalco rose over 4.5% each, HUL up 0.8% on BSE.

The laggards included, Bajaj Auto dropping 1%, NTPC fell 0.6%, ITC declining 0.6% on BSE.

Among other notable movers, Steel Strips Wheels soared 11% to Rs 171 after the company registered a 63% year-on-year growth in export sales of 88,020 steel wheel rims during the month of February 2013.

The company had sold 54,014 steel wheel rims in the same month of previous year in overseas market

Tata Motors ended higher by 3% on reports that the company has slashed the prices of its Indica and Manza range of passenger cars by up to Rs 50,000 in order to prevent falling sales in recent months.

Alembic Pharmaceuticals soared over 15% to Rs 92.20, also its record high on BSE, after the company said it has received USFDA approval for its NDA Desvenlafaxine base extended release tablets, a bio equivalent version of innovator drug, Pristiq by Pfizer.

The broader markets gained with mid-caps and small- caps rising over 1% on BSE.

The market breadth was firm.

Out of 2,933 stocks traded , 1,685 stocks advanced compared to 1,136 declined on BSE.