The BSE benchmark Sensex today fell for the third straight day by losing 202 points to end at one-week low of 19,362.55 on sustained profit selling as foreign brokerages including Morgan Stanley cut India's FY'14 GDP forecast, amid a weakening global trend.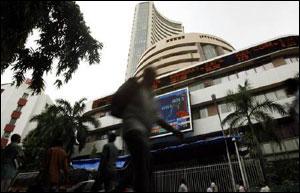 After losing 118 points in the last two sessions, the Sensex dropped further by 202.37 points, or 1.03 per cent to 19,362.55 led by banking and financial stocks. This is the lowest since Sensex's closing of 19,252.61 on March 6.
Market participants were cautious ahead of WPI data release tomorrow, traders said. In 30-share Sensex, 22 stocks declined and six gained, while Sterlite Industries and Tata Power closed unchanged.
Sectorally, the banking index suffered the most by losing 2.18 per cent to 13,515.54 as stocks of HDFC Bank, ICICI Bank, SBI and HDFC fell as interest rate hopes faded further.
Among other interest-sensitive sectors, the consumer durable index was second worst performer as it dropped 1.57 per cent to 6,910.59 and auto index fell by 1.53 per cent to 10,669.43.
Hopes of a rate cut by RBI on March 19 were also dimmed after better-than-expected IIP data and rising retail inflation were released yesterday.
The broad-based National Stock Exchange index Nifty fell by 62.90 points, or 1.06 per cent to end at 5,851.20.
"Tomorrow inflation numbers are to be announced and market volatility is likely to continue. Global factors will have near term impact too on the indices," said Nidhi Sarswat, Senior Research Analyst, Bonanza Portfolio Ltd.
Earlier today, Morgan Stanley lowered India's GDP growth forecast for 2013-14 to 6 per cent, from 6.2 per cent estimated earlier, citing challenging domestic and external environment and lower-than-expected expansion logged in the last quarter. Reports said HSBC has also cut its forecast.
Brokers said a weak trend in the Asian region and lower opening in Europe before the announcement of Eurozone area production further influenced the sentiment.