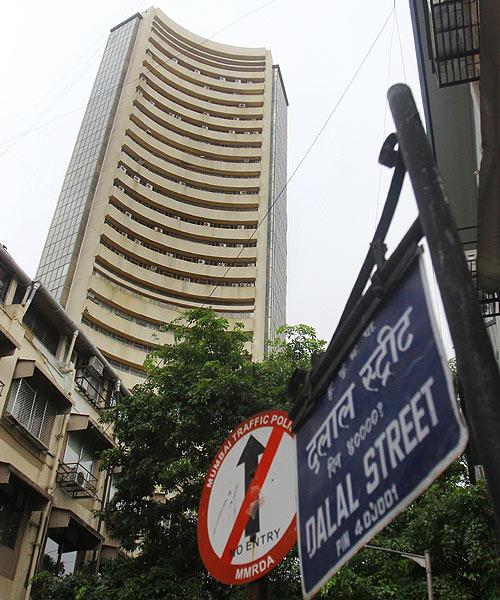 Benchmark share indices edged higher led by FMCG majors on the back of encouraging progress of the monsoon.
At 10:13am, the S&P BSE Sensex was down 116 points at 27,825 and the Nifty50 was down 2 points at 8,562.
Foreign institutional investors were net buyers in equities worth Rs 870 crore on Thursday, as per provisional stock exchange data.
TCS was down nearly 1%. Net profit for the quarter at Rs 6,318 crore was up 10.6 per cent from Rs 5,708 crore in the corresponding quarter last financial year.
Revenue for the quarter at Rs 29,304 crore, was up 14 per cent from Rs 25,668 crore in the same quarter last year.
Infosys was trading nearly % higher ahead of its first quarter earnings today.
Reliance Industries was trading with marginal gains ahead of its first quarter earnings later today.
FMCG shares gained on hopes of pick in rural volume growth after Indian Meteorological Department said that the southwest monsoon has covered the entire country and rainfall so far has been 4% above normal.
ITC was up over 1% while Hindustan Unilever was up nearly 1%.
NTPC was down nearly 4%. Reports suggest that the state-owned largest power producer in the country plans to build new units at existing plant sites and phase out the old ones.
HDFC eased on profit taking after recent gains. The mortgage lender raised Rs 3000 crore through the country's first masala bond issuance at 8.33% for a tenure of 37 months.
GLOBAL MARKETS
Asian stocks edged higher on Friday on the back of encouraging economic data from China while overnight gains on Wall Street also aided sentiment.
The Nikkei was up over 1% while the Hang Seng and Straits Times rose 0.6%-0.7% each.
However, Chinese shares retreated from their early highs and were trading flat with negative bias.
The benchmark Shanghai Composite was down 0.2%.
US stocks hit fresh record highs on Thursday with the Dow Jones registering rising over 100 points led by global technology majors Apple and IBM.
The Dow Jones industrial average ended up 0.7% at 18,506, the S&P 500 closed 0.5% higher at 2,164 and the Nasdaq settled 0.6% higher at 5,034.
Photograph: Hitesh Harisinghani/Rediff.com