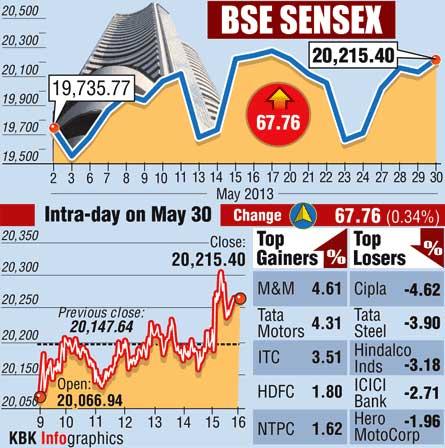 Markets ended marginally higher on Thursday, amid expiry of May futures and options series, led by gains in FMCG major ITC and select auto shares.

The Sensex ended at 20,215 up 68 points.

Nifty ended up 20 points at 6,124.

Meanwhile, world shares were under pressure for a second day on Thursday and the dollar slipped against the yen, as uncertainty over when the US Federal Reserve might slow its stimulus programme dominated markets.

Global risk appetite was also frail amid looming fear over a pull-back of stimulus by the US Federal Reserve earlier than expected.

Top European stocks were rangebound after heavy falls on Wednesday, but another 5 per cent dive in Japan's Nikkei in Asian trading left MSCI's world index at a three-week low. Hang Seng and Shanghai Composite slipped 0.3% each.

Markets will be looking at Q4 March 2013 gross domestic product (GDP) data due tomorrow for direction.

India's GDP grew 4.5% in Q3 December 2012, sharply slower than the 5.3% expansion reported for Q2September 2012.

The rupee trimmed its early gains but was still quoted at 56.22 against the dollar today due to selling of the US currency by banks amid its lower value overseas.

Good foreign capital inflows into equity market also affected the market sentiment.

"We do not see a mjor downside in the Rupee at these levels, though no major recovery is also expected in the near term. However, on a short to medium term, the bias for the Rupee remains negative," said Rishi Nathany, CEO, Dalmia Securities Pvt. Ltd.

Broader markets traded in red as well. BSE mid-cap index was flat at 6,475. Small-cap index, however, dropped 21 points to 6,038.

Most of the sectoral indices were in the red. BSE realty index was down 2.4% at 1,786. Oil & gas index slipped 0.7% at 8,895.
Capital goods, metal and bankex shed some weight as well.
However, the BSE auto index was up 2.3% at 11,369. FMCG and power sectors also moved up in trades.
Tata Motors added 4.3% at Rs 1,004 as the company pruned losses at the stand-alone level, thanks to the strong performance by Jaguar Land Rover.
Its consolidated profit for the quarter ended March 31, stood at Rs 3,945 crore against Rs 6,234 crore posted in the same quarter a year earlier, a drop of 37%.
Analysts had estimated a net profit of about Rs 3,000 crore for the reporting quarter.
Mahindra & Mahindra added 4.6% at Rs 1,005, after it posted a 1.7% rise in net profit for the three months ended March, helped by higher sales.
Mahindra, also the world's largest tractor company by sales volume, said profit for the fiscal fourth quarter was Rs 889 crore, against Rs 874 crore a year earlier.
This was followed by HDFC and Tata Power.
Defensive buying took FMCG major - ITC 2.3% higher in trades.
On the other hand, Cipla shed 4.6% at Rs 383 after the company reported 8.28% decline in its net profit at Rs 267.56 crore for the fourth quarter ended March 31, 2013 mainly due to higher tax expenses.
Banking major, Tata Steel shed 4%, followed by Hindalco, ICICI Bank and Larsen & Toubro.
ONGC ended flat at Rs 334 after it reported 40% decline in net profit for the fourth quarter ended March 31, 2013, to Rs 3,387 crore, compared with Rs 5,644 crore a year ago on account of higher share of subsidies.
Markets heavyweight, Reliance dipped 1.3% at Rs 835 and together with ICICI Bank, accounted for a 84 point drop on the Sensex.
BSE market breadth was negative.
Out of 2,522 stocks traded, 1,327 shares declined while 1,062 shares advanced in trades.