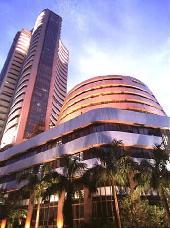 Benchmark share indices pared early gains to end lower for the fifth straight session on Tuesday with FMCG and select software shares leading the decline.

The 30-share Sensex ended down 211 points at 18,226 after touching a low of 18,207 and the 50-share Nifty ended down 48 points at 5,495 after touching a low of 5,487.

Both the Sensex and Nifty have lost just ove 4% in the last five trading sessions amid persistent selling by foreign institutional investors.

FIIs have sold equities worth Rs 1,107 crore in the past five trading sessions, as per data released by Securities and Exchange Board of India.

In Asia, Japan's Nikkei average ended flat on Tuesday after rising to its highest level in nearly five years, as investors cashed in gains on stocks that had stellar performances after the central bank unveiled massive stimulus moves last week to revive the economy.

Among others, Hang Seng, Shanghai Composite and Straits Times ended up 0.4-0.7% each.

European equity markets rose in early trading, led by mining stocks as investors hoped for more accommodative monetary policy from China following benign inflation data, and after U.S. firm Alcoa posted solid earnings.

The DAX, CAC-40 and FTSE were up 0.2-0.5% each.

BSE IT index was the top loser among the sectoral losers down over 2% followed by Oil&Gas, FMCG, Power, Consumer Durables, Realty and Bankex down 0.8-1.8% each.

Shares of select software exporters were down amid weak US economic data and investors turning cautious as earnings are likely to remain muted in the fourth quarter.

Infosys which is scheduled to announce Q4 results on Friday ended down 2.4% at Rs 2,766.

Wipro shares were down after the company demerged its non-IT
businesses. The stock ended down at 12% at Rs 394.
FMCG major ITC which was trading firm since the past few sessions despite the correction in the markets also witnessed profit taking and ended down 2% at Rs 287.
In the oil segment, Reliance Industries ended down 1.8% at Rs 776 and ONGC ended down 2.9% at Rs 303.
SBI, HDFC Bank, HDFC, Hindustan Unilever and Bharti Airtel were among the other Sensex losers.
Tata Motors and TCS were the top Sensex gainers. TCS ended up 1.1% at Rs 1,497 after the company said it will acquire France-based enterprise solutions provider Alti SA for 75 million Euro (about Rs 533 crore) in an all-cash deal.
Among other shares, Cairn India ended nearly 2% higher at Rs 291 after the oil exploration and production firm said that it has struck fresh oil in the Barmer Block in Rajasthan.
"The company has made its latest oil discovery, the 26th discovery so far in the RJ-ON-90/1 block, following recent policy clarity by Government of India (GoI) to conduct exploration activity in development blocks," Cairn India said in a BSE filing.
TVS Motor Company dipped 12% to end at Rs 35 on profit booking after the stock surged 25% in past four-trading days on the BSE.
Vakrangee Software has surged 5% to Rs 70.50 after the company received the Reserve Bank of India's nod for setting up automated teller machines or ATMs that will not be proprietary to a particular bank.
Maharashtra Seamless has rallied as much as 10% to Rs 236 in morning trades on BSE after its board approved Rs 100 crore share buy back at a maximum price of Rs 300 per share through the open market.
In the broader market, the BSE Mid-cap and Small-cap indices both ended nearly 1% down each.
Market breadth was negative on the BSE with 1,131 losers and 562 gainers.