The BSE benchmark Sensex on Friday on Friday lost over 95 points on fag-end selling by investors concerned over economic growth and lower earnings by blue-chip stocks amid a weak Asian cues.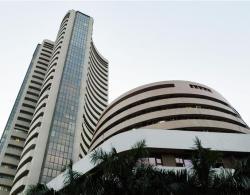 In a seven straight day of losses, the Sensex fell by 95.55 points, or 0.49 per cent to 19.484.77 on heavy selling in last 30-minute of trade.

This was the longest losing streak of the index since November 2011. The gauge had dropped 425 points in last six sessions.

Similarly, the National Stock Exchange index Nifty fell by 35.30 points, or 0.59 per cent, to 5,903.50 led by stocks of metal, realty and auto sectors.

Brokers said the investors remained cautious on lower gross domestic product projections and ahead of the inflation data next week.

As per the advance estimates of the CSO, which was released yesterday, the GDP growth rate for the current fiscal is estimated to be at 5 per cent, the lowest in a decade. The economy grew by 6.2 per cent in 2011-12 fiscal.

Brokers added that weak quarter earnings by Hindalco and Canara Bank in continuation to
Cipla on Thursday further dampened the market sentiment.
Hindalco Industries On Friday reported nearly 4 per cent decline in standalone net profit at Rs 433.52 crore (Rs 4.33 billion) for the third quarter ended December 31, on subdued sales and sharp increase in finance costs.
Shares of Hindalco closed at Rs 109.75 apiece, down 3.18 per cent from its previous close on the BSE.
The cement sector stocks remained under pressure on fears of falling realty sector might hurt the product demand and hurt quarter earnings, they added.
ACC stocks fell 3.04 per cent to Rs 1,304.45, Ambuja Cement by 5.10 per cent to Rs 189.85, Madras Cement by 0.08 per cent to Rs 237.10, Shree Ultratech by 1.96 per cent to Rs 1,884 and Gujarat Sidhi Cement by 1.93 per cent to Rs 9.15.
In 30-BSE index components, 21 stocks declined led by Reliance Industries, Hindalco, Cipla, State Bank of India, ICICI Bank, Coal India, Hero Motocorp and Jindal Steel.
However, a surge in Tata Consultancy Services on hopes of better earnings on firming European trend saved the market from any major fall. TCS stocks rose by 2.58 per cent to Rs 1,423.25 and Wipro by 1.57 per cent to Rs 411.45.