Auto major Mahindra & Mahindra today reported 26.28 per cent increase in standalone profit at Rs 836.19 crore (Rs 8.36 billion) for the quarter ended December 31, 2012, mainly on account of good vehicle sales.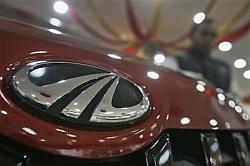 The company had posted a net profit of Rs 662.15 crore (Rs 6.62 billion) in the corresponding period of the previous year.

The standalone net income during the period under review went up by 28.53 per cent to Rs 10,774.28 crore (Rs 107.74 billion) from Rs 8,382.91 crore (Rs 83.82 billion), Mahindra & Mahindra (M&M) said in a statement.

"The growth in profits of the company despite relentless increase in material costs is due to a good volume performance by automotive sector and tight control on expenses," the Mumbai-based company said.

During the quarter, the company sold 70,483 units in the passenger utility vehicle segment, registering a growth of 36 per cent over the numbers sold in the same period last fiscal, it added.

"All the products of the entity's UV portfolio continued to do well," M&M said.

In the passenger car segment, the company sold 3,814 units of Verito. It also exported 6,500 units.

Talking about the tractor segment, M&M said the domestic market registered a moderate growth in the October-December quarter with sales growing by 3.9 per cent over the year-ago
period.
"In the quarter, the company sold 62,522 tractors under the Mahindra and Swaraj brands as against 62,342 tractors sold in the same period last year," it said, adding it exported 2,459 tractors in the same period.
Besides, the engine business revenue grew by 11 per cent to Rs 222.10 crore (Rs 2.22 billion) as against Rs 200.10 crore (Rs 2 billion) in the same period last year.
The company's total expenses went up by 29.88 per cent to Rs 9,741.99 crore (Rs 97.41 billion)from Rs 7,500.75 crore (Rs 75 billion) in the same period last fiscal.
Talking about the outlook, M&M said: "There has been a significant improvement in the macroeconomic environment in the last three months. Global risks to growth have abated for now, bringing considerable relief. Macroeconomic developments on the domestic front have also been equally encouraging."
Although several weaknesses like high fiscal and current account deficits, and subdued investment cycle still remain, the company's overall outlook on the economy is one of "cautious optimism", it added.
Shares of M&M were trading at Rs 882.15 apiece on BSE during late afternoon, 1.49 per cent down from its last close.