A shortfall in LPG supply from Aramco has led to huge booking backlog across states.
To meet the backlog, India has asked Abu Dhabi National Oil Company for two additional cargos of LPG, but that may take another 10 days to reach.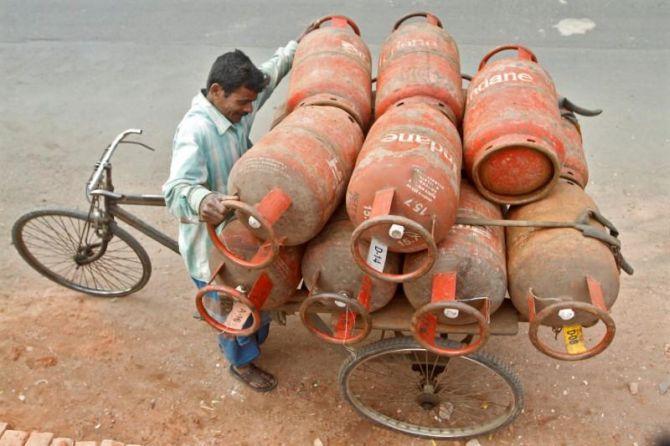 This festive season, liquefied petroleum gas (LPG) delivery in the country is bearing the brunt of a recent terror attack at the Saudi Aramco facilities.
A shortfall in assured supply from the energy major has resulted in a huge booking backlog across states such as Maharashtra, Karnataka, Punjab and Goa, according to industry sources.
The delivery of cylinders is taking 10 to 15 days in some of the states, LPG distributors said.
Maharashtra is especially tricky as the state is going for Assembly elections on October 21.
To meet the backlog, India has asked Abu Dhabi National Oil Company (Adnoc) for two additional cargos of LPG, but that may take another 10 days to reach.
The Ministry of Petroleum and Natural Gas is monitoring the situation on a daily basis and has already asked companies to take appropriate action to deal with the shortage.
India is the largest consumer of LPG after China.
In 2018-19, India's overall consumption of the fuel was 24.9 million tonnes (MT), of which only 51.4 per cent or 12.8 MT was met from domestic production while the remaining was imported.
The shortage has become acute because of the recent shutdown in ONGC's Uran unit after a fire, a source pointed out.
Even some units of Mangalore Refinery and Petrochemicals (MRPL) were shut last month, following a minor landslide in the area.
There were shutdowns in some private refineries as well.
When contacted, an Indian Oil Corporation (IOC) official said consumers would not face any problem during the festive season. He confirmed that fresh cargo from Adnoc would be coming in soon.
Another official said poll-bound states - Maharashtra and Haryana - would be given special attention.
State-run oil marketing companies – Indian Oil Corporation (IOC), Bharat Petroleum Corporation (BPCL) and Hindustan Petroleum Corporation – together have 273 million LPG customers served by 24,026 LPG distributors as of August 2019.
Since the launch of Pradhan Mantri Ujjwala Yojana (PMUY) in 2016, LPG penetration in India has increased from a mere 62 per cent to around 94 per cent in a span of three years.
Hence, any shortfall in supply affects the large BPL (below poverty line) customer base that came in with PMUY.
"Companies, like BPCL, are bringing additional cargoes to Mumbai and seeking priority berthing at various ports available for LPG.
"The impact is now being felt in the Eastern and North Eastern regions as well," said a person in the know.
An official at an oil marketing company said many of the bottling plants were already working on multiple shifts with over 100 per cent capacity utilisation to meet the festive demand.
At present, there are 192 LPG bottling plants in India with an annual capacity of around 18.3 million tonne.
The total LPG consumption recorded a growth of 13 per cent during August 2019 and a cumulative growth of 3.6 per cent for April to August this financial year.
During August, the northern region had the highest share in total LPG consumption at 30.9 per cent.
This was followed by 28.2 per cent in the southern region, 22.4 per cent in the west, 16 per cent in the east and 2.5 per cent in the north-east.