Snapping its two-day of losing string, the rupee on Wednesday edged up by a paisa to end at 54.36 against the Greenback on late dollar selling by exporters amid weak dollar overseas.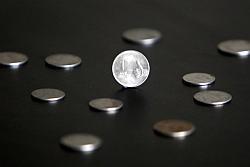 However, bearish domestic equities restricted the rupee rise, a forex dealer said.

The rupee started lower at 54.54 a dollar from previous close of 54.37 and declined further to a low of 54.56 at the Interbank Foreign Exchange (Forex) market on continued dollar demand from importers at early stages and hesitance in local equities on political uncertainty.

The DMK had on Tuesday withdrew support to Congress-led UPA government and on Wednesday handed over five ministers resignation to the Prime Minister.

The domestic currency later bounced back on dollar selling by exporters after morning session and fall in dollar in global markets to a high of 54.26 before closing at 54.36, a net rise of one paisa. In last two days, it had depreciated by 36 paise or 0.67 per cent.

The BSE benchmark index Sensex closed below the key 19,000 level for the first time in three weeks, stretching losses for the fourth straight day. The FIIs injected Rs 62.63 crore (Rs 626.3 million) Tuesday, as per provisional data with stock exchanges.

The dollar index, a measure of six major global units, was down by 0.25 per cent ahead of the policy meeting at the US Federal Reserve.

Pramit Brahmbhatt, CEO, Alpari Financial Services (India)
said, "The rupee traded weak in first session. But in the second session it traded strong. Expect dollar-rupee to trade between 54.25 and 54.75. The dollar traded weak against most of the currency mainly after the Cypriot parliament rejected a bailout proposal and ahead of a policy meeting at the US Federal Reserve."
"After weakening for the last two sessions, rupee witnessed a mixed day on Wednesday. It closed at 54.36 levels. The rupee was seen weakening yesterday after the RBI policy and political instability.
"It opened on a weaker note taking cues from the international markets. But later it appreciated ahead of the debt auction by RBI and disinvestment on Friday. Wednesday's FOMC meet will be very important for the US dollar," said Abhishek Goenka, Founder and CEO, India Forex Advisors.
Meanwhile, the premium for the forward dollar improved further on persistent payments from banks and corporates.
The benchmark six-month forward dollar premium payable in August ended a tad higher at 177-178-1/2 paise from Tuesday's close of 176-1/2-178-1/2 paise.
Far-forward contracts maturing in February finished up at 342-344 paise from 340-342 paise.
The RBI fixed the reference rate for the US dollar at 54.3780 and for euro at 70.0365.
The rupee recovered against the pound sterling to 82.18 from previous close of 82.23 and also rebounded against the euro to 70.18 from 70.39.
It, however, edged up against the Japanese yen to 57.00 per 100 yen from overnight close of 57.03.