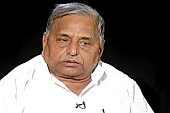 Samajwadi Party supremo Mulayam Singh Yadav on Wednesday met Nationalist Congress Party chief Sharad Pawar, amid speculation about the possible political realignment following the Dravida Munnetra Kazhagam pulling out from the ruling United Progressive Alliance.
The meeting of the two leaders also comes against the backdrop of the Samajwadi Party demanding resignation of Union Minister Beni Prasad Verma for his remarks against Yadav that he takes commission to support the UPA government.
The SP has said it is not satisfied with Verma's "regret" and would prefer an apology from the minister, who was once close to Yadav.
However, both Yadav and Pawar, whose NCP is a UPA constituent, played down the meeting, saying they had met to discuss modalities of a programme they have to attend together on March 24.
"We have to attend a programme on the death anniversary of Nagar ji (a freedom fighter). We discussed the programme and the details," Yadav said after meeting the NCP chief.
Pawar too said their discussion was confined to chalking out details of the programme.
While the NCP is a key constituent of the UPA, the SP extends outside support to the government.
A day after withdrawing support to the government, five DMK ministers on Wednesday tendered their resignations to Prime Minister Manmohan Singh from the Union council of ministers.