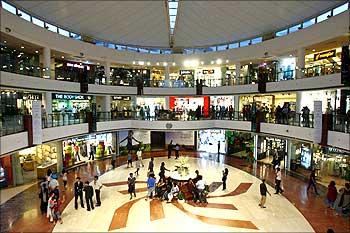 Tata, Reliance and Aditya Birla groups have decided to take on e-retailers like Amazon and Flipkart, but their strategy is different from their online peers
India could well be the final frontier in e-retail.
Amazon's chief executive, Jeff Bezos, has announced an additional investment of $3 billion in India, on top of the $2 billion it has invested in the country in the last three years, with which it hopes to take on homegrown Flipkart which has raised close to $3.2 billion since its inception in 2007.
Not to miss out on the action in Asia's third-largest economy, Chinese giant Alibaba plans to enter India sometime this year.
It is already an investor in local e-retailers Snapdeal and Paytm and also has an e-commerce business in the country targeting small and medium enterprises.
The stakes are high.
But in all the hype around the new-age e- retailers, what often gets ignored is the slow and steady progress made by Indian conglomerates that have built their modern retail business in the brick-and-mortar format.
Cyrus Mistry, Mukesh Ambani and Kumar Mangalam Birla are not only fighting back to safeguard their offline retail ventures, they are also coming up with pure play e-retail ventures in the areas of their strength. With this they hope to maintain their leadership positions.
The market sure is big.
Amazon commands over 35 to 40 per cent share of the $350 billion e-commerce market in the US, according to a recent note by JPMorgan.
But e-commerce is only about 11 per cent of the $3.2 trillion retail market (excluding-gas, food and automobile) in the US, which leaves a huge upside for growth.
Walmart, the world's largest retailer, had a turnover of $482 billion last year, the largest chunk of which came from its home market, the US.
The numbers in India may not be as big but the opportunity for serious growth is all there.
Marketing research firm eMarketer expects e-commerce sales in India to grow to $55 billion in 2018 from from $14 billion in 2015, as smart-phone penetration improves.
"This is the start of a long journey," says K R S Jamwal, executive director, Tata Industries.
"We have started off our business with optimism and differentiated proposition.
"We have our own path and they are on their own paths," adds the man behind the launch of Tata Group's e-retail foray, CLiQ."
CLiQ, the multi-channel e-retail venture, is banking on certified merchandise by tying up with 12 partner brands across apparels, footwear and electronics available across 500-plus stores.
CLiQ will leverage the group's retail operations across Titan, Tanishq, Westside and Croma, besides tying up with Genesis Luxury Fashion to sell a wide range of international brands exclusively in India.
These brands include Burberry, Hugo BOSS, Jimmy Choo, Giorgio Armani, Emporio Armani, Armani Jeans, Canali, Michael Kors and Paul Smith.
It also hopes to ride on the Tata brand in the markets where trust becomes the deciding factor.
A growing market
Though small at the moment, CLiQ is not short on ambition.
The Indian e-retail market is still at a nascent stage: there are 30 to 40 million regular online shoppers in the country today, in a population of 1.25 billion, which means a penetration of less than 4 per cent.
The pioneers of the business both local and global have already brought a shopping habit that CLiQ can ride on.
"If we increase touch points to 1,500 to 2,000 stores in the next 12 to 18 months and then scale it up to 3,000 to 5,000 stores in a few years, while maintaining a great customer experience, I do not see why over a period of time we cannot be amongst the top three in the minds of customers," says Jamwal.
"In fact, we must try to be the number one in terms of customer experience; otherwise it is not worth it."
Tata CLiQ's launch in May followed Mukesh Ambani-led Reliance Retail, an arm of Reliance Industries, starting online fashion portal Ajio.com in the previous month.
Ajio is a multi-channel format run by the fashion and lifestyle business of Reliance Retail.
It promises to offer the largest collection of private labels for women online.
"With the advanced internet infrastructure built by Reliance Jio (the telecom business of Reliance Industries) and a robust physical retail business built by Reliance Retail, we will create a differentiated e-commerce model for India," Ambani, the chairman of Reliance Industries, said in his last speech to investors.
After painstakingly building a modern retail business in the brick-and- mortar format in the last decade, Ambani not only needs to protect it from e-retail but must also grab the new opportunities.
Reliance Retail reported turnover of Rs 21,612 crore, from 12.8 million square feet footprint across 532 cities, at the end of last financial.
Kumar Mangalam Birla, the chairman of the Aditya Birla group, is not far behind.
In fact, he is one of the pioneers for multi-channel retail in India: he launched trendin.com in 2013, which gave his brick-and-mortar business under the Madura and Pantaloons brands an online presence.
But that was certainly not enough to meet his ambitions: he launched fashion e-tail abof.com late last year.
"We are not looking at a deep-discount model, but one that is high on the style quotient," Birla told Business Standard at the launch of abof.com.
"Our prices will be quite sharp, which we call 'honest pricing'," he said, giving the new venture four to six years to break even.
Flush with private equity, the new age e-retailers were able to attract buyers through heavy discounting which ate into their profits.
The business houses have shunned this strategy and are building businesses without offering heavy discounts.
Ashish Tuteja, partner at McKinsey, says, "Indian retail will be a multi-channel business. To protect the future valuation of their current brick-and-mortar consumer businesses, Indian conglomerates have to move online."
There is going to be a fight for consumers for sure and that will leave many bleeding.
Flipkart has already been devalued to $11 billion from $15.2 billion earlier, which has weakened its ability to raise funds.
Last year also saw some weaker players surrendering in the market place and being grabbed by large business houses.
Mahindra Retail which ran maternity and child care store chain Mom & Me acquired baby care product e-retailer BabyOye.
The venture capital investors of BabyOye, Accel Partners and Tiger Global, took a huge write-off while selling the venture to the Anand Mahindra-led group.
Also, Adi Godrej-led premium food retailer Nature's Basket acquired online grocer ekstop.com as it struggled to raise further funds. The acquisition also helped Godrej to integrate both the businesses to create a multi-channel format.
"This Market is likely to consolidate and a few Indian conglomerates will have the ability and fortune to be at the fulcrum. So some of these moves could also be in preparation of that" says Tuteja.
JUMPING ON INDIA'S E-RETAIL BANDWAGON
Amazon commits $3 billion investment
Alibaba plans new venture this year
Tata Industries launches Cliq.com
Reliance Retail launches Ajio.com
Aditya Birla Group launches Abof.com