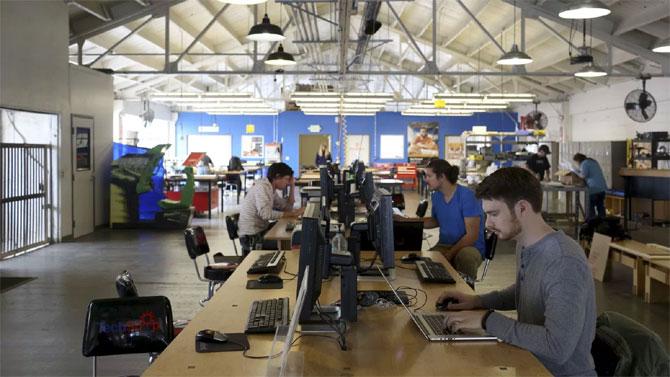 With its free listing of goods and services, Facebook could disrupt the paid model adopted by classified players in the country, say Ayan Pramanik and Raghu Krishnan.
Facebook Marketplace is yet to expand into India, but among the first listings is Handwork of India, a Maryland shop that sells desi clothes to customers in the United States. The Indian store has received good ratings from shoppers and its products are visible to other users on the social media platform who might be interested in buying them.
The mobile-first marketplace, which allows people to buy, sell and discover items within a community, is only available in the US, the UK, Australia and New Zealand -- the developed, English-speaking countries.
But it is a matter of time before Facebook brings the concept to India. The country has over a billion mobile phone subscribers, of which over 200 million use smartphones that allow them to access internet on the go.
Currently, Facebook has over 150 million users in India, a majority of whom access the social media site on their smartphones, making the country an especially ripe destination for its marketplace platform.
On a growth path
India's digital classifieds industry is expected to grow three-fold to $ 1.2 billion (around Rs 7,900 crore) by 2020, with horizontal classifieds, which include services such as jobs, real estate, autos, and so forth, cornering around 30 per cent of the share, according to a joint study by Google and KPMG in September.
Google says search trend reveals that the non-metros, such as Pune, Ahmedabad, Chandigarh, Kochi, Coimbatore, Indore and Jaipur, have seen a four-fold increase in local searches for e-services, real estate and automobiles.
Crucially, people are ready to pay a fee to get their work done. Which means those who list their services have a monetising opportunity as well.
For instance, 59 per cent of those who buy second hand goods are willing to pay for quality verification or home delivery; 43 per cent of job portal users are ready to pay for auto application for vacancies and 40 per cent of consumers searching for real estate do not mind paying for legal verification of property, said the KPMG and Google report.
Facebook's marketplace is designed to offer such classified postings for free within a community for people to buy and sell goods. Transactions and delivery of goods, however, are done outside of the platform.
Disruptive force
In India, Facebook's potential entry could disrupt the models built by Naspers-owned OLX and Tiger Global-backed Quikr. While buyers and sellers can list on Facebook for free, other existing players offer the service for a fee. OLX and Quikr did not respond to an email seeking comments.
Interestingly, both OLX and Quikr have claimed market leadership in the listings category. "India is a key early market for OLX, in which we had to deploy significant capital in the last fiscal years. This investment has been put to very good use by out-executing our main competitor, Quikr," Martin Scheepbouwer, CEO (classifieds business), Naspers, told investors in June.
Quikr had retorted to that saying that OLX was yet to make money in India, while pointing that its rival was using selective data to stake leadership claim.
"In a growing market like India where various data sources contradict each other, selectively cherry-picking sources that present a favourable picture of one's own business can be very misleading," said Prasun Mandal, head analytics, Quikr. "In addition, there is the inconvenient truth that our monetisation is growing strongly and is in tens of millions of dollars, while our competitor is yet to even start generating revenue. We fully agree that the horizontal classifieds battle in India is over. We just disagree on who has won it."
Slugging it out
While the two online classifieds companies battle it out to prove who the winner is, analysts say, Facebook's marketplace could be the real threat.
"Whether you like it or not, doing something at scale and usability are big problems not many companies have been able to solve... Facebook has been able to do this successfully," says Sanchit Gogia, founder and chief executive, Greyhound Research, a technology researcher. "It is a community which they have successfully built, now they are taking this community to commerce. Facebook is going to the next level, where it can see itself making money," he adds.
However, the marketplace could have been a bigger threat if it had taken care of payments and delivery as well. "It could be a powerful idea to start such a platform, especially because of Facebook's large user base. But, it would have been a threat to the existing players if the social media site had enabled payment and delivery," says Pinaki Ranjan Mishra, partner and national leader (business and risk advisory services), EY.