At present, other large players in the grocery and food retail space include Flipkart Supermart, Bigbasket, and Grofers.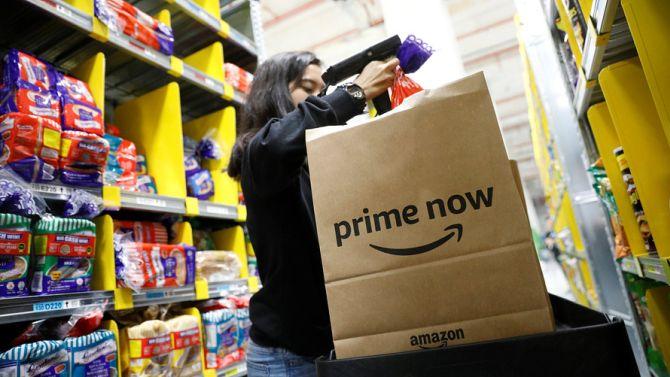 Amazon is building up its war chest to pump in additional cash into the unit that handles the grocery business in India, with plans for aggressive expansion in the segment.
The Seattle-headquartered firm has increased the authorised share capital of Amazon Retail India (ARIPL) - one of the sellers of grocery items on its platform.
According to a regulatory filing sourced through data and business intelligence platform Paper.vc, ARIPL raised its authorised share capital to Rs 355.5 crore from the present Rs 165.5 crore, through an extraordinary general meeting held in early March.
With this, the share base of the company will increase to a total of 355 million as compared to 165 million earlier.
An Amazon spokesperson said the retail giant has already announced the infusion of around $500 million into the food retail segment, taking its total capital commitment for its various Indian units to $5.5 billion.
The hike in equity share capital, which shows an intent to infuse more capital into this subsidiary, comes when the online grocery segment in the country is buzzing with activity, given players such as Bigbasket, Grofers and Flipkart Supermart are going aggressive in their investment plans.
"The company is in need of funds for the expansion of business operations.
"Therefore, it is necessary to increase the authorised equity share capital to accommodate future fund requirements," the company said in the regulatory filing.
"Amazon Retail India is one of the least funded among Amazon's various units in India, and has received around Rs 115 crore so far.
With the planned increase, the retail major is now gearing up to broaden its presence in the segment through a multipronged approach, working with the entire ecosystem including local kirana stores," said Vivek Durai, founder and chief executive of Paper.vc.
Though the increase in share capital by Rs 190 crore is not much compared to the investment commitment of $500 million (around Rs 3,500 crore), experts said that the issuance of shares to promoters usually happens at a premium, over the par value of the shares (in this case Rs 10 per share).
ARIPL was set up in 2017 after Amazon received the licence for food retailing in India.
This was after the government permitted foreign direct investment (FDI) in this space.
This is the only category in which retail players are allowed to manage an inventory.
As grocery becomes the new frontier for battle among e-commerce heavyweights in India, players such as Amazon, Flipkart, Bigbasket and Grofers are locked in an intense battle for higher market share.
While the numbers of Amazon's grocery unit - Amazon Pantry - are not yet available, people in the know said Flipkart's grocery revenues stand at Rs 50 crore per month.
Bigbasket is learnt to be posting close to Rs 500 crore in monthly sales, while Grofers registers around Rs 150 crore.
Although this segment is yet to gather pace, e-commerce firms perceive this as a medium to enhance customer stickiness, which helps them cross-sale other products.
Expansion plans

Amazon to increase its capital commitment to $5.5 bn, with an additional infusion of $500 mn in food retail
Amazon Retail India (ARIPL) was set up in 2017 after the govt allowed FDI in food retail
With an increase in share capital, ARIPL is likely to expand its business activity in the grocery segment
At present, other large players in the grocery and food retail space include Flipkart Supermart, Bigbasket, and Grofers
Photograph: Reuters