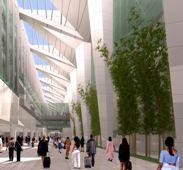 It is all barren land, with mounds of piled cement and sand. Delhi Airport's Hospitality District isn't much of a sight presently but that's temporary.
The huge expanse, about three km from the new terminal -- T3 of the airport -- is going to become the hub of some of the most happening hotels in the capital city.
The vicinity of the airport only has the Radisson and Centaur, beside the Leela Kempinski, Trident and Courtyard Hotel in Gurgaon -- all in the five-star category. But now they will come up in all shapes and sizes -- five, four and even three-star..
Amongst those to come up are deluxe ones such as the  JW Marriott, Hyatt Andaz and Hyatt Place, Dusit D2, Pride Hotel , Pullman, Red Fox, Lemon Tree, Ibis, Holiday Inn and Novotel. Most of these will open their doors by 2012 and are expected to create over 3,100 rooms across different pricing and categories.
Accor Hotels, which is going to open one of its brands, 'Ibis', in the middle of next year, is waiting for its neighbouring hotels to get ready. 
"We don't want to open with construction work going on all around us. The Delhi airport will become happening once all the hotels open up," said Uttam Dave, development head of Accor Hotels India.
Besides, a 100-room hotel facility is also likely to come up inside the Delhi International Airport, to cater mainly to passengers in transit. Expected to be operational by December, it  will be run by Delhi International Airport Ltd. 
"There was a very small supply in the Delhi Airport. Even Mumbai Airport, which is not anywhere like DIAL, is surrounded with five-star hotels which are doing extremely well. This is a great opportunity for Delhi and India to establish themselves, as for the entire region," said Rajeev Menon, area vice president, Marriott Hotels. 
With T3 in Delhi set to put India on the global airport map, hotels are also gearing up to cater to the anticipated growth in traffic.
"The biggest driver of growth in the medium to long term will be the meetings, conventions and entertainment segment, currently not very big. Commercial and leisure segments will also continue to do well and see double-digit growth," said Manav Thadani, managing director of HVS India.
Currently, as many as 26 million passengers fly in and out of Delhi annually, which is about 70,000 a day. The new terminal has been built for accommodating 34 million passengers annually and there are plans to expand it to cater to 100 million customers annually.
Hub will push boom
Hotels are expecting an average occupancy of 60 per cent in the first year of business.
"The situation will change drastically when Delhi starts acting like a hub terminal, as is the case with Changi and Dubai airports," said Ankur Bhatia, managing director, Amadeus.
At present, the transit passenger count is less than five per cent. Industry experts said this would increase to 30 per cent when the hotels near Delhi Airport and the T3 become operational.
With the new terminal, hotels are also expecting some additional business from the airline segment. Industry experts said there'd be some supply-side pressure in the short term of one to three years, but in the long run, these rooms will get absorbed.
"It is a very good location in between Gurgaon and Delhi and there is a lot of demand which hasn't been met," said Sushil Gupta, chairman and managing director of Asian Hotels–West.
The company is developing the JW Marriott property, with a capacity of a little over 500 rooms.
The Bird Group is coming up with two hotels in Delhi in partnership with Thai-based Dusit Hotel. Dusit D2, a five-star, is coming up in the DIAL hospitality district, with a capacity of 216 rooms.
"We are targeting the younger audience. The hotel is very well connected to the highway and has all the amenities like luxury cinema, cafe, etc," said Ankur Bhatia, executive director of Bird Group.
Overall, hotel rooms in the national capital region are expected to double in number, with companies expanding their presence aggressively.
Currently, the estimated number of rooms in the star hotels category in Delhi is 11,000. An addition of another 10,500 rooms in these hotels is in the pipeline.
The Best Business Specials